Swindon won by Chao Zhang
Sun, 30/09/2018 - 09:06

—

Tony Atkins
Swindon
Sat, 29 Sep 2018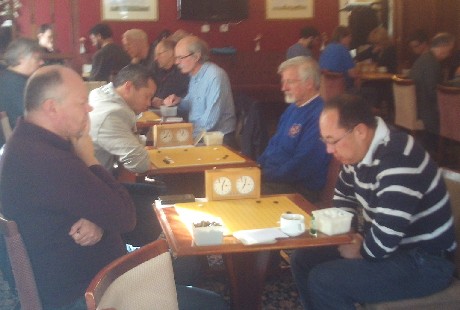 Although spanning 25 years, the Swindon Tournament reached its 20th edition. Despite other events on the same day, a clutch of late entries pushed the attendance up to 27. As in recent years the venue was the back room of the Conservative Club in Swindon's old town, with the weather bright and sunny if players wanted to wander to the Town Gardens between games.
Winner was London's Chao Zhang (6d), pictured right against Christian Scarff. Chao then beat Simon Shiu (3d) in round two and then Alistair Wall (1d) in the final. The only other player to win three games was Jil Segerman (10k Arundel). The third trophy awarded went to young Ryan Zhang who won the 13x13 and the Fighting Spirit Prize.
Last updated Sat Jan 19 2019. If you have any comments, please email the webmaster on web-master AT britgo DOT org.