T Mark Hall Remembered at London Go Centre
Thu, 04/10/2018 - 17:43

—

Tony Atkins
T Mark Hall Rapid
LGC
Sat, 29 Sep 2018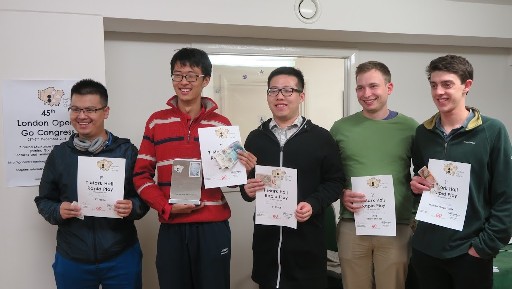 22 players came to the London Go Centre to take part in the first T Mark Hall Rapid Play. Before the prize ceremony, Francis Roads said a few words to inform or remind the players who T Mark Hall was, how he liked fast games and how the London Go Centre was a consequence of his bequest to Go.
Winner of the tournament was Tunyang Xie (4d China) who won all five games. Second was Peikai Xue (1k London) on four wins and Zhanqi Kang (2d Winchester) was third. Lower down those who won four games were James Taylor (11k Warwick University) and Caleb Monk (20k Kings College Juniors), and others, such as Maks Gajowniczek (5k), were rewarded with certificates too, as shown in the picture.
Last updated Tue Jan 05 2021.
If you have any comments, please email the webmaster on web-master AT britgo DOT org.