Shodans left cussing as Alison Wins Welsh Open
Tue, 03/07/2018 - 16:12

—

Martin Harvey
Welsh Open
Barmouth
Sat, 30 Jun - Sun, 1 Jul 2018
The 26th Welsh Open proved to be a hot one - both in the air temperature approaching 30C and the fierce competition for overall winner. The regular organisers & tournament directors Helen and Martin Harvey apologised the previous year for ineffective sun-dancing leading to rain. This year the TDs sought forgiveness - for over-zealous sun-dancing, however. The resultant queuing at the bar at least kept the hotel-owner happy, and meant we could avoid the queues if players wanted hot drinks or - in many cases - cold water.
Held in its constant, scenic coastal town of Barmouth since 1993, the event again passed off smoothly and enjoyably. A slight increase meant that 33 played in at least one of the six rounds, including three shodans and down to a 17-kyu. Participants once more travelled from across the UK – from Dundee, Cambridge, London and yes, two from Wales! Numbers and conversation at the evening meals were enhanced by non-playing partners.
The now-customary venue – the large Min y Mor hotel and restaurant – again provided draught Abbot Ale, two quiet playing rooms and an analysis lounge for game reviews.
There was yet another new winner for the tournament – for the eighth year in a row – strong 1-kyu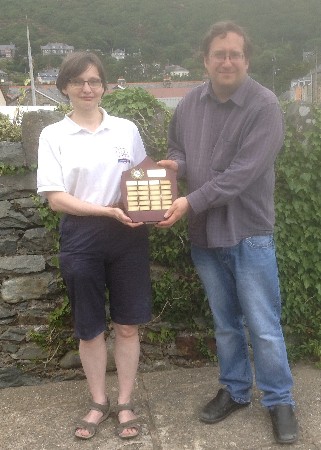 Alison Bexfield from Letchworth, in her fourth Barmouth appearance. It was very tight at the top, though, as Alison was joined, in the 'above the bar' winners of 5 games, by two shodans - both previous Welsh Open winners - Alistair Wall and Richard Hunter. The TDs sought advice on how to split these three. Unlucky Alistair and Richard took silver and bronze respectively, with gold being decided on CUSS. The Brian Timmins Plaque was duly presented to Alison by Brian's son Peter (as shown in the picture).
There being just two drawn games, and with 4.5 wins needed for a prize, the only other prize-winner - also on five wins - was Roger Daniel, despite his just having returned to 6k from 7k. Roger was one of five players making the journey up from Wanstead. The traditional Fighting Spirit prize went this time to Bob Bagot, 3k Lancaster, more accustomed to awarding such a prize than receiving it.
As we reported last year, accommodation was hard to find this year, so may we again urge players to book rooms as soon as they can. Some have already done so, as the weekend of 22nd and 23rd June 2019 has been agreed with the venue, where four rooms have thus been booked.
And finally, as they say, may we spare a thought for football fans ... is 4 a lucky number for England? In Barmouth, it had been 4 years since an English participant won the trophy on this foreign soil. This was Alison's 4th attempt to win this event. And the World Cup comes round every 4 years ... some fingers are crossed !
Last updated Mon Jul 09 2018. If you have any comments, please email the webmaster on web-master AT britgo DOT org.