LGC Hosts Kyu Players Weekend
Mon, 13/05/2019 - 17:55

—

Tony Atkins
Bar-Low
London
Sat, 4 - Mon, 6 May 2019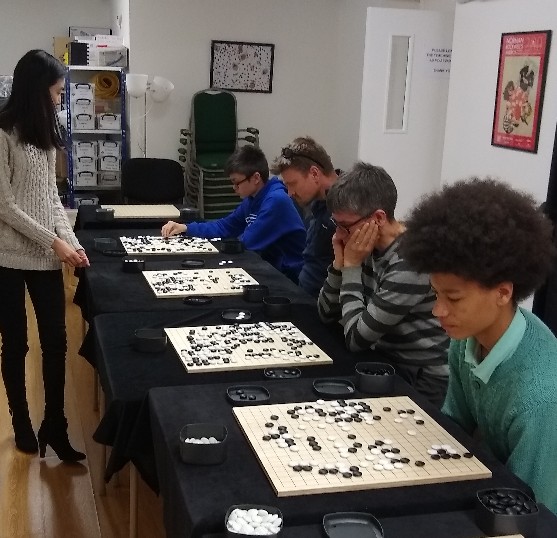 The Kyu Players Weekend, held at the London Go Centre over the first May Bank Holiday, started with a teaching day on the Saturday. Teachers were former professional Chao Zhang (6d), former British Champion Daniel Hu (4d), Charles Hibbert (3d), Joanne Leung (2d) and Jonathan Turner (2k) - shown bottom left - who variously led small groups in analysis, discussion and simultaneous playing sessions. The lectures were videoed and may be found on the LGC YouTube channel. It was good to see some very young players taking part in the lessons and the tournaments.
The Bar-Low Tournament on the Sunday had 25 players from 2k to 35k . The winner with 4/5 was Rawle Michelson (5k West London), as shown bottom right. Runners up on tie-break were Tim James (4k Brighton) and Scott Cobbold (6k). Ryan Carson (13k) won all five games and winning four were Oliver Bustos-Langton (7k Keele), Ryan Zhang (18k London) and Francesco Salerno (18k). These all won a Go book and a certificate. Results
The Self-paired event on the Monday had seven players, 2k to 18k. After the first round, players played whoever else was free in subsequent games. The Winner was event-organiser Richard Wheeldon, who donated his prize back to the London Go Centre. Michael Kyle (2k Manchester) was runner-up and Ryan Zhang had an amazing four wins out of four. Results
Last updated Fri Jun 14 2019.
If you have any comments, please email the webmaster on web-master AT britgo DOT org.