Fun and Games at Maidenhead
Mon, 21/01/2019 - 13:41

—

Tony Atkins
Maidenhead
Hitachi
Sat, 19 Jan 2019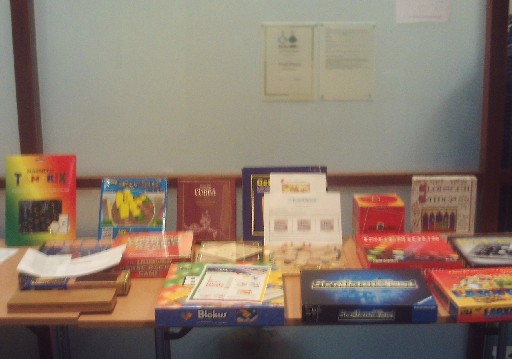 There was much fun and games at the Maidenhead-Hitachi Tournament. As usual it was held at the Whitebrook Park headquarters of Hitachi Europe, though news was shared that due to potential company relocation it might be the last. In between rounds, as well as playing 13x13 games, most of the ten youngsters taking part played different games with Alison, the non-playing organiser. In addition, as well as wine and mystery envelope prizes, the prize table contained a large selection of board games as shown right.
The winner of the tournament was the former Chinese professional, Chao Zhang (6d London), shown right. He beat Jon Diamond, Alex Kent and Andrew Simons to take the title.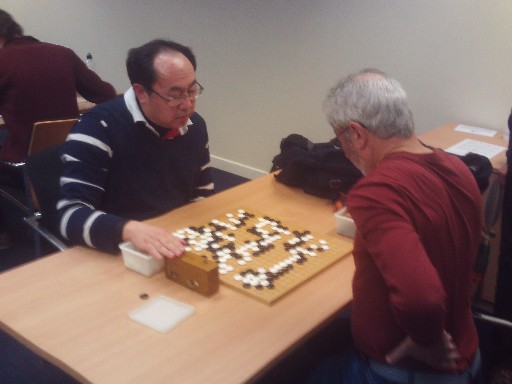 Several of the 52 players won two prizes for three wins: Peikai Xue (1d London), Michael Kyle (3k Manchester), Geoff Kaniuk (6k Cambridge), Edwina Lee (8k Milton Keynes), Pierre Oliviere (13k St Albans) and Caleb Monk (14k Epsom). In addition, all those who won two who stayed for the prize giving went away with a prize. Results
Extra winners were Velko Trifanov (20k Harpenden) who won 8/9 in the 13x13 and Hilary Bexfield (17k Letchworth) with 9/12. The best team were the Monk-Hsiehs with 8/12.
Last updated Mon Jan 21 2019.
If you have any comments, please email the webmaster on web-master AT britgo DOT org.