Peikai Xue wins a Swiss Scottish Open
Mon, 27/05/2019 - 08:59

—

Tony Atkins
Scottish Open
Rutherglen
Sat, 25 - Sun, 26 May 2019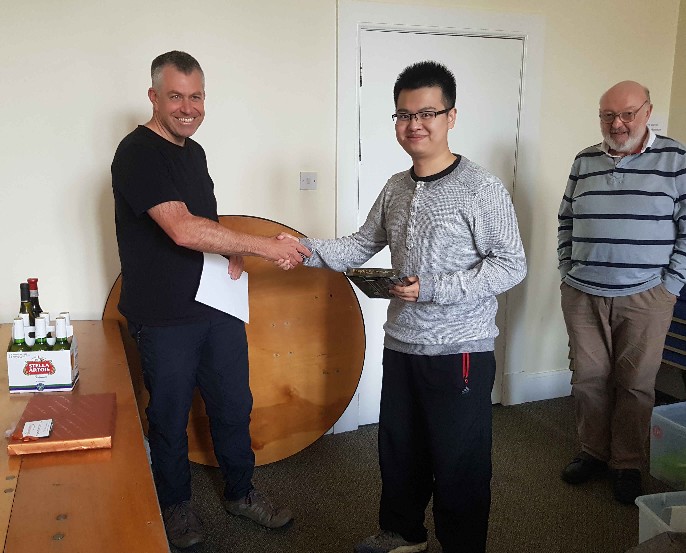 This time the Scottish Open moved back to the weekend at the end of May and to a first time venue at Columbkille's Church Hall in Rutherglen, just east of Glasgow. Unfortunately there was a drop in numbers attending, with just 15 players taking part at some point. So the decision was made to make the event a Swiss System event, with handicaps less one; everyone playing all rounds had a chance of winning.
In the end it was the two dan players and a 7k who ended on five wins. Peikai Xue (2d London) was the winner of the title on SOS tie-break (shown right collecting his prize). His only loss was against Jakub Ziomko (1d Aberdeen) who finished second. Coming third was Quinlan Morake (7k Glasgow) who beat Jakub but lost to Peikai. Taking prizes for four wins were Edinburgh's Grzegorz Kudla (2k) and Neil Sandford (16k).
Last updated Tue Jan 05 2021. If you have any comments, please email the webmaster on web-master AT britgo DOT org.