Improved Entry at Trigantius
Tue, 12/03/2019 - 13:41

—

Tony Atkins
Trigantius
Cambridge
Sat, 9 Mar 2019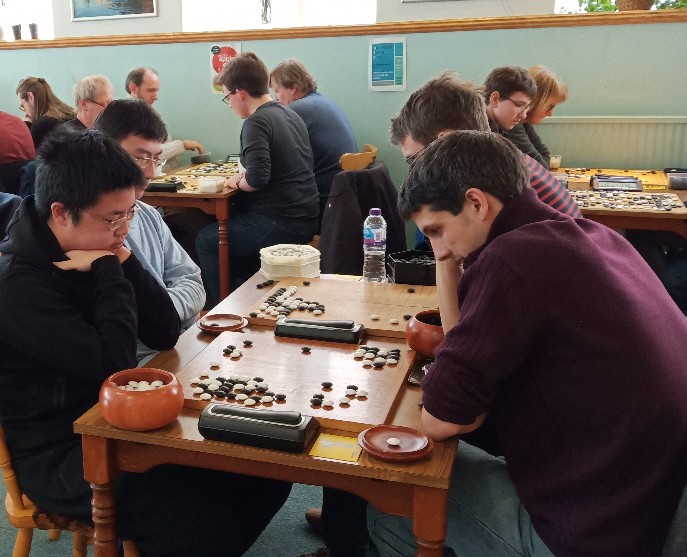 This year's Trigantius saw a much improved entry of 69 including seven new players. The venue was again the University Social Club in Mill Lane and the bright spring weather helped attract the large attendance. Play took place in the main bar area (as seen in the picture) and overflowed into a back room for the bottom six boards. Unfortunately this large number made it take longer for Geoff Kaniuk and his team to set the rooms up and to register the players, so the event was half an hour late starting.
Games were successfully played using Fischer timing of 45 minutes, plus 15 seconds per move, which meant the event was still an A-Class for ratings, but this allowed play to continue a bit longer than anticipated. This meant a very short lunch break (with higher than expected demand on the kitchen) and a thirty minute late finish. After the prize giving and packing up, a group of ten completed the event with a meal at the Riverside Restaurant in the nearby University Centre - a previous location of Trigantius.
In the afternoon the Trigantius Novices was run upstairs by Paul Smith for 26 young players, including two students. Some of the children managed to play in both tournaments, which was a little confusing for the organisers. In addition various Go teachers were on hand to give advice and help to the novices as appropriate.
This year the winner of the Trigantius was Tunyang Xie (4d) from Cambridge. He beat Andrew Simons in the final. All players on three wins received an egg prize, made from a semi-precious stone such as agate. The others were Bob Baldwin (20k Letchworth), Adam Sharland (16k Nottingham), Alex Terry (8k Cambridge), Alistair Turnbull (7k Cambridge) and Jonathan Grant (3k Cambridge).
Winning all his five games to win the Novices was Ryan Zhang (20k London). Second on four wins was Julia Volovich (Cambridge). All players received a Go or chocolate prize, with those who didn't win so many because of tough opponents getting the choice next, before the ten players who won three games.
Last updated Tue Mar 12 2019. If you have any comments, please email the webmaster on web-master AT britgo DOT org.