European Youth on in Croatia (Part 2 of 2)
Wed, 18/03/2020 - 18:05

—

Martin Harvey
25th European Youth Go Championship
Stubičke Toplice in Croatia
Wed, 11 - Sat, 14 Mar 2020
Part 2 of 2, of a report on the 25th European Youth Go Championship.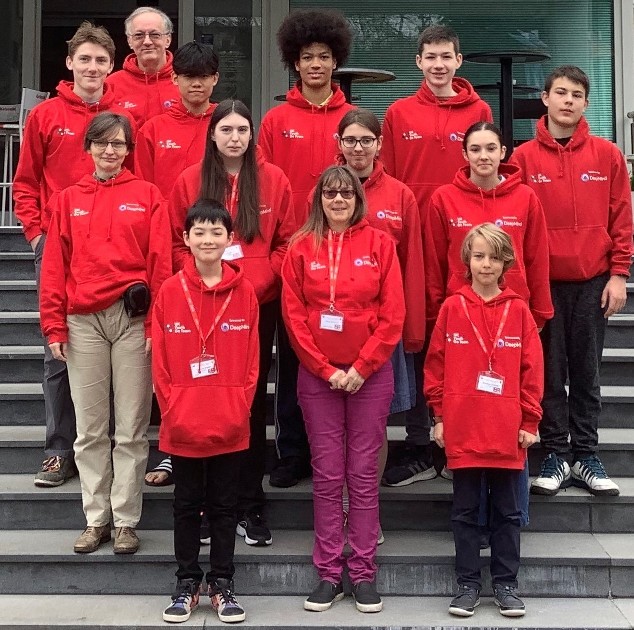 Full names of the people above may be found in a section below. Also, for any photo, you can both hover your mouse over it to see more details, and click on it to see an enlarged version of the photo. You will find all the photos here - and more - on the BGA's photo page for the event.
What are EYGCs?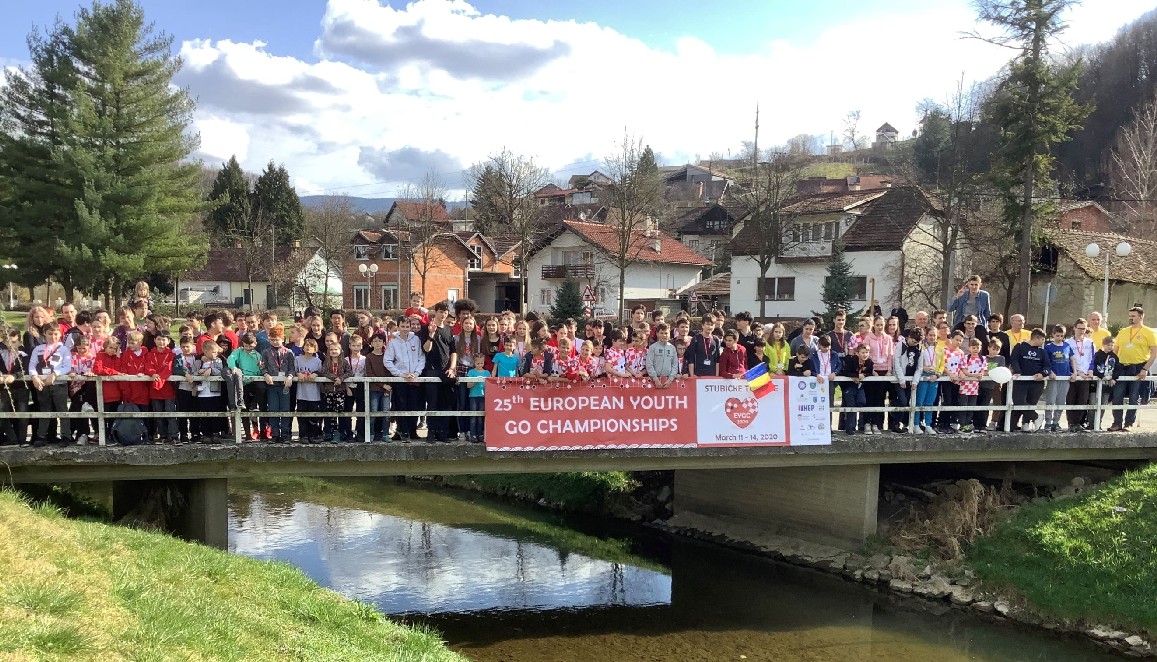 The EYGC (European Youth Go Championship) is a youth competition, played face-to-face, in a different country each year. It is very well supported, with players from most European countries. Some national teams are very big and strong, with Russia being in the ascendancy.
The atmosphere is always great, many friends are made, new cultures experienced, European players' grades cross-calibrated, and naturally youngsters improve at Go.
As a key - and youth - annual event, it is co-organised between the host country and the European Go Federation (EGF). Several members of the EGF committee attend, headed by its President, Martin Stiassny.
Every year, the BGA asks for volunteers to gauge UK demand, broadcast the event, grow the group, inform, organise and lead the UK team, and take care of unaccompanied youngsters in particular. Then take photos, write up the trip, add photos, send photos to parents, settle expenses with parents and the BGA, and finally alter report(s) for the Journal. A lot of work, but worth the effort, and an inspirational experience for our ever-improving players - whether elite or as yet lower-graded.
EYGC 2020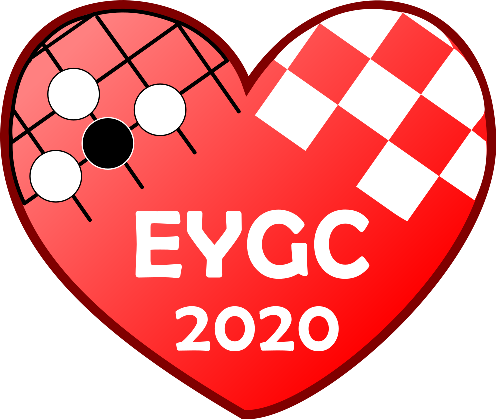 The BGA had asked Helen and me to be Team Coach + Team Leader respectively for the trip. We undertook this for the two most recent years where demand was sufficient to send a UK team - Grenoble in 2017, and Kiev in 2018. This year we were pleased to have 13 youngsters (1 non-playing) and 12 adults (all named below). This is a good mix of responsibility at the event.
The 2020 edition took place in Stubičke Toplice in Croatia.
The event spanned 11-14 March 2020. Day 1 was for arrival, registration, Opening Ceremony and then the Team Leaders meeting. Days 2-4 were for Rounds 1-6, via 2 games per person per day. Actually, for us, there was a further day (March 15th), when most of us flew back to the UK.
162 youngsters competed - an average of 11.3 over the 14 countries - so the UK was a typical size.
This report follows on from our earlier report - which we posted after round 4 of 6 - and we happily report that the event then continued to go very well for us. We would have sent more and timelier reports, but the hotel wi-fi - whilst free - was not of a standard worth paying for!
All the UK Team youngsters have had a brilliant time.
Fear of coronavirus understandably robbed the event of a third of its initially-registered players from across Europe. Of the UK's original party of 29, we lost only 1 child & 3 adults re fear of quarantining. Against this background everybody, wisely, was instructed to wash their hands multiple times per day, and had to have sanitiser sprayed on their hands to enter the playing rooms.
The main hotel was also the venue for all events, so nearly all the UK team stayed there, on full board. This made it easier to keep everybody safe & informed. It also contributed to team bonding, esp. for parents less familiar with the UK-wide Go scene before this event.
Five of us flew from Manchester, with 3 of us joining the majority of the other 20 at Heathrow for the onward flight to Zagreb. It had been good planning to go through LHR, as it made it easy for others to meet up with Helen and me, and made it simpler for us to coordinate shuttles to and from the venue. All rooms were arranged so as to be fairly close to other UK guests.
UK party
Seven of our 12 players were new to EYGC events, largely as we didn't go to Moscow, so all are now 2 years older since Kiev in 2018. Even so, all 12 won at least 2 games out of 6 rounds.
We had a good distribution across all 3 age groups.
Note that names of their accompanying parents or sisters are also shown, in brackets.
A big thank you to each of our 25 travellers, as all added to the team's personality.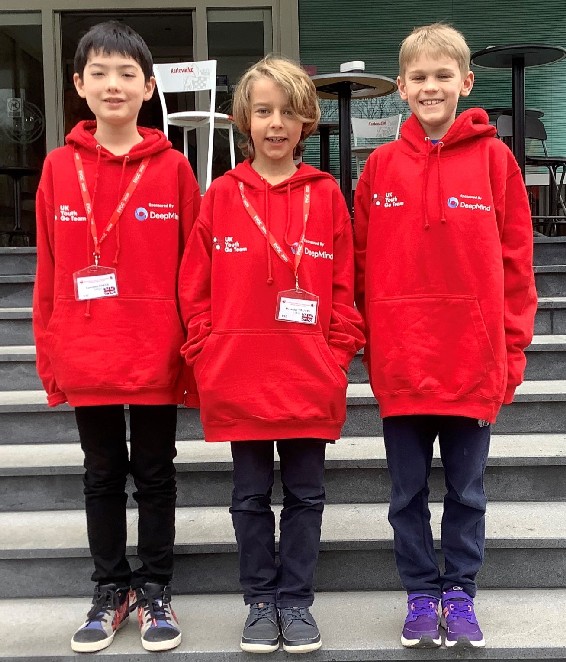 U12
Alexander Timperi 12k (+ parents Kalle, Ioana and 4yo Filoteea)
Lawrence Baker 19k (+ mum Iva)
Andrew Volovich 19k (+ mum Liudmila)
U16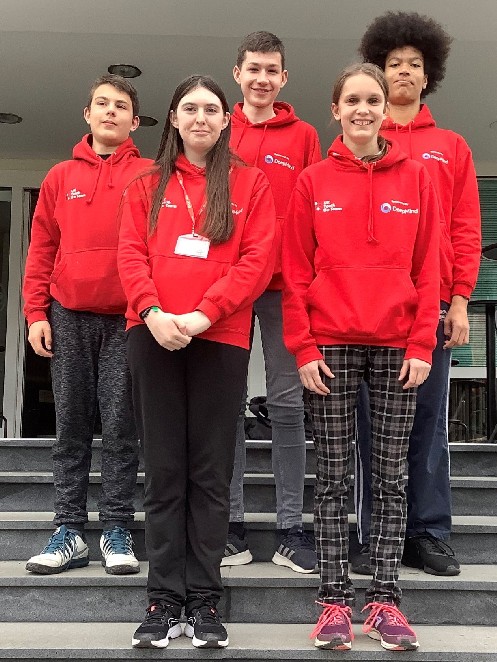 Edmund Smith 3k (+ dad Paul)
Scott Cobbold 4K (+ parents Keith and Sue)
Megan Upton 14k (+ mum Shirley)
Julia Volovich 18k (+ mum Liudmila )
Adrian Kabashi 19k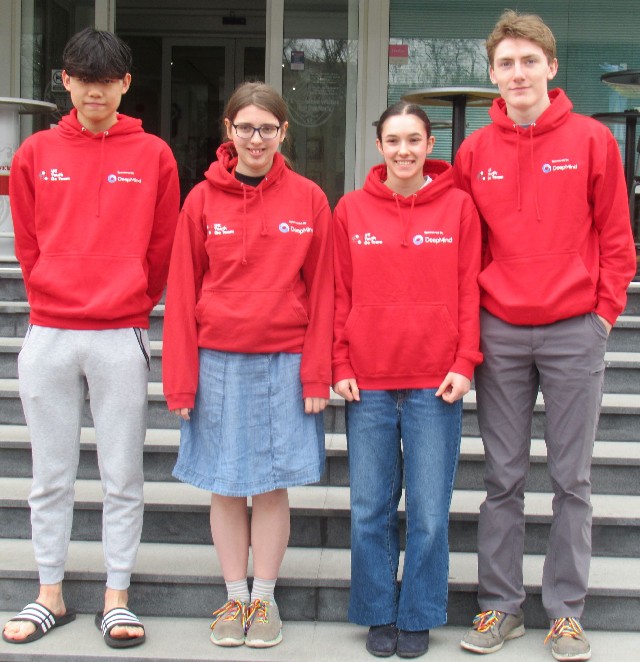 U20
Jayden Yui-Him Ng 1d
Hilary Bexfield 13k (+ mum Alison)
Lizzy Pollitt 15k
David Baldwin 15k (+ mum Mandy)
How did Team UK fare?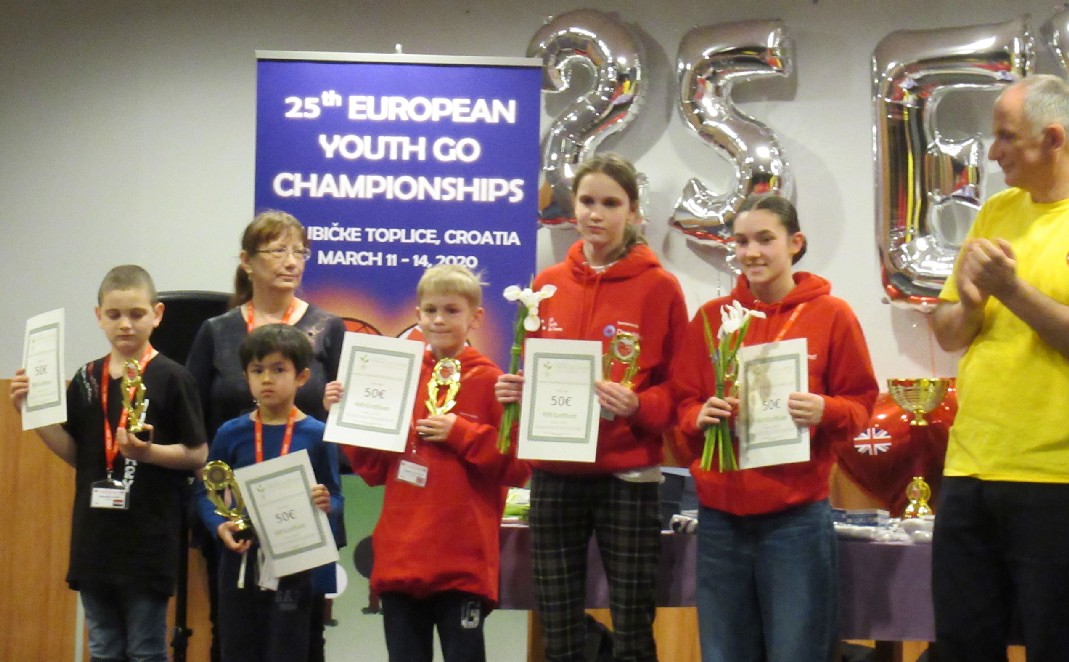 Of the 72 games we played, we had 38 wins (53%), 31 losses and 3 byes. Very pleasing overall for the UK, and one of the best UK performances at an EYGC, where there are always several very strong teams.
Here is a link to the full results.
Benefits of such events (record+review games)
You can judge the success of a trip in many ways. There's fun, team-building, inspiration, experience, social-improvement ... and yes, wins. But maybe more important still is how much Go improvement a youngster makes? Such events are a golden opportunity.
Full credit to those players who used their time during a game to record some (but not too many) of their opening moves on kifu paper, so that they could then learn from each game by a later - preferably immediate - review. Most players did record, so they could take the maximum benefit from the game, whether they'd lost or won. During a game, players ponder many alternative moves, plumping for one. A review is the chance to ask many related questions and get proper advice. Whilst one can learn from a self-review, it's clearly more productive to talk to the adults, who are very experienced at review techniques, or at least our own stronger youngsters.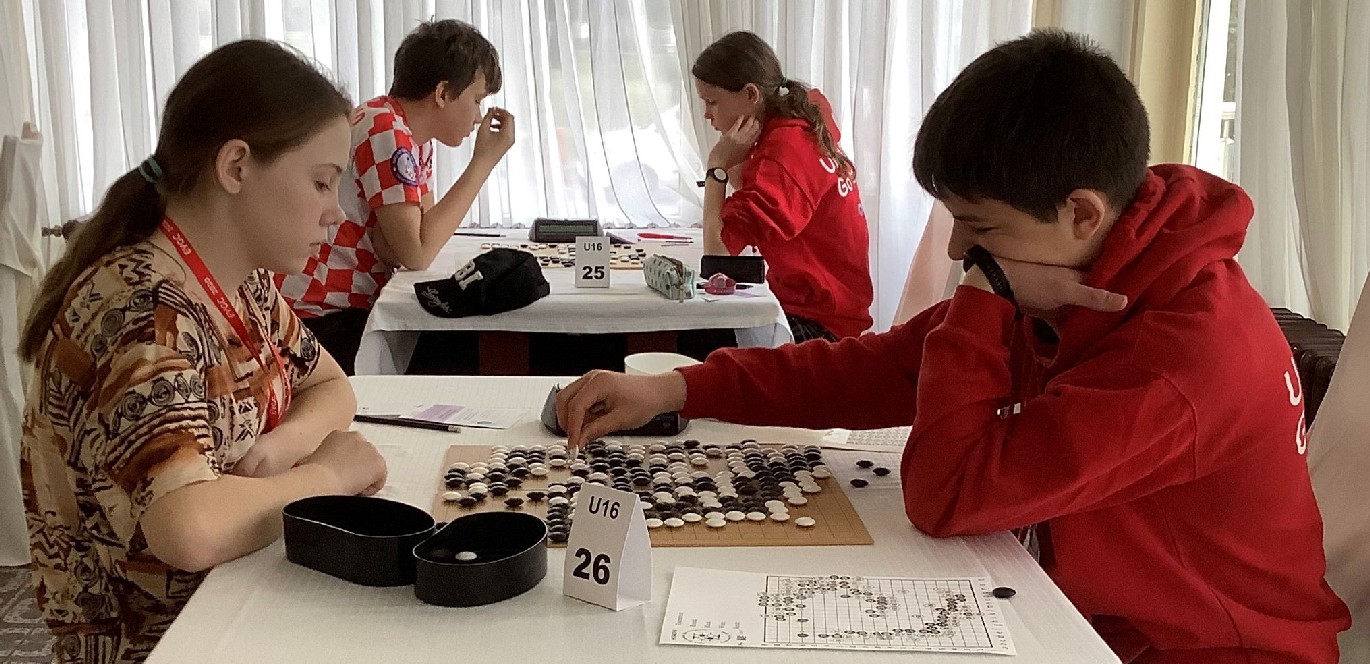 My personal mantra is "I'd rather lose and have a good review, than win". What matters in the long run - in Go as in much of life - is not how much success you enjoy in an event, but how much you can learn from the time and money invested. I honestly believe this is true and, moreover, at all youth events we stress that it's better to lose than win. Really, why? Because when you lose, a clever person spots a mistake and learns from it; the winner may have learnt nothing (not true of course if the game's recorded and reviewed). Thus a negative (losing) is turned immediately into a positive (lessons learnt), and an unhappy face becomes a more content one, with extra confidence for the next challenge.
Alison Bexfield, the all-year-round UK Squad captain wore a UK hoodie, so that she (like Helen and I) could enter the playing rooms, to watch and decide on some talking points for later player-debriefing. She, Paul, Helen and I reviewed many of the games - not to mention professionals Catalin Taranu, 5p and Kim Young-sam, 8d who also did.
Pair Go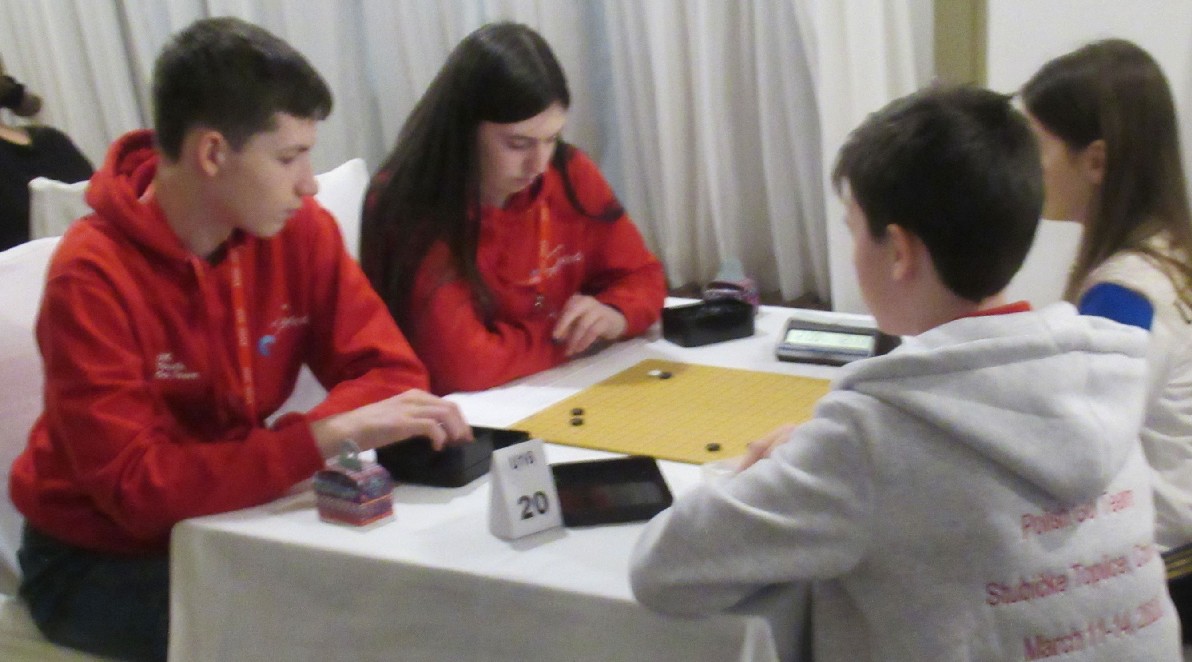 Martin Stiassny ran the popular Pair Go side-event, where up to 16 pairs competed, in both U12 and U16 groups. This was a KO event, and 3 of the 4 UK pairs went through to R2. Some of the pairs were brave + resourceful enough to play acquire a non-UK partner. All contestants received a Pair Go tee-shirt; these are always very popular with UK youngsters.
Other activities
Several of the team went on 1 of 2 excursions for sight-seeing in Zagreb, complete with knowledgeable local guides from the hotel. Some also enjoyed the local science museum, whilst we all went for nearby walks around the hilly locality, using the ATM or enjoying coffee & pancakes in the cafes.
To relax and socialise, many of our team played cards, with games "Palace" (a variation on "Castle") and "Domino" both very popular.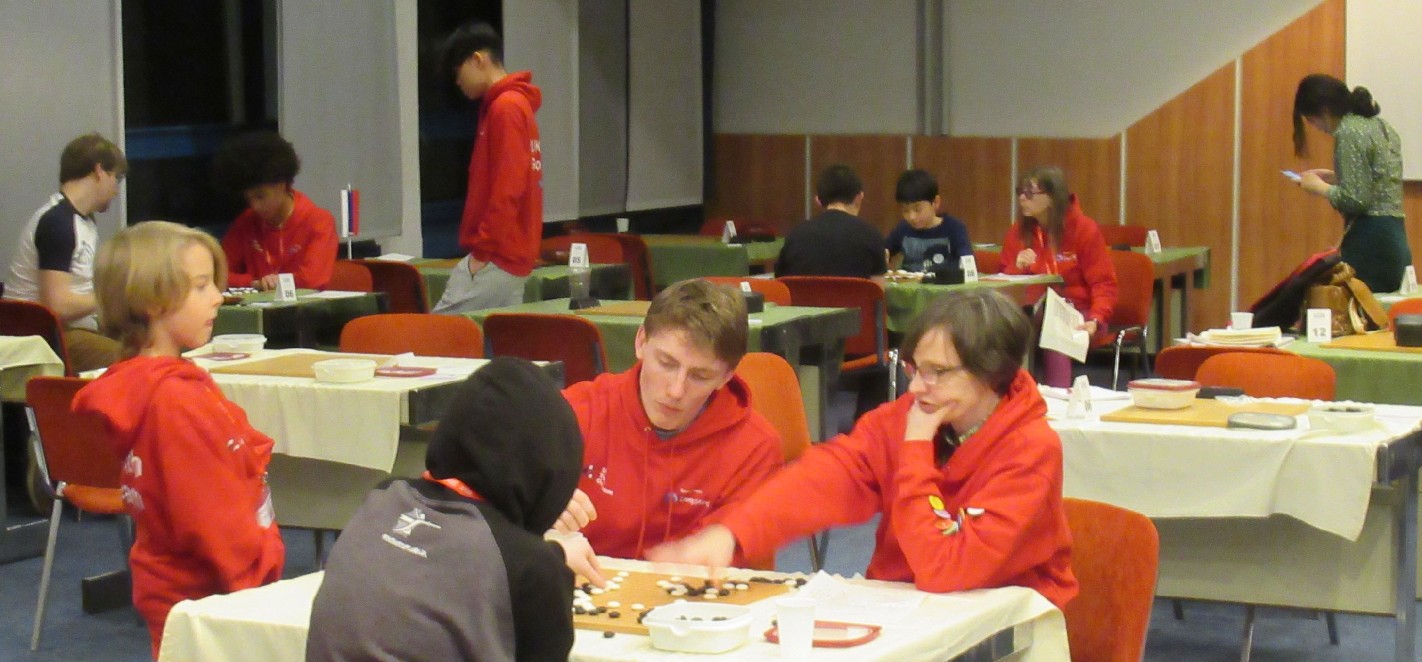 One evening was allotted for optional UK Go game-practice, pairing players against those of similar strength, to calibrate better each individual's grade. Martin 6k lost to Alexander 12k (gulp!), consoled only by the latter's father Kalle 1d losing to Scott 4k. (This info. is our secret - surely you won't pass it round?!)
Many often relaxed too by using the free, lovely and heated outdoor swimming pool. Many of our 25 went on walks, for fresh air, exercise and nice scenery; all 25 (bar Edmund, who'd kindly agreed to start R6 early, so his opponent could catch a rearranged flight) walked uphill on the last lunch break to a great viewpoint, where we took more team and family photos.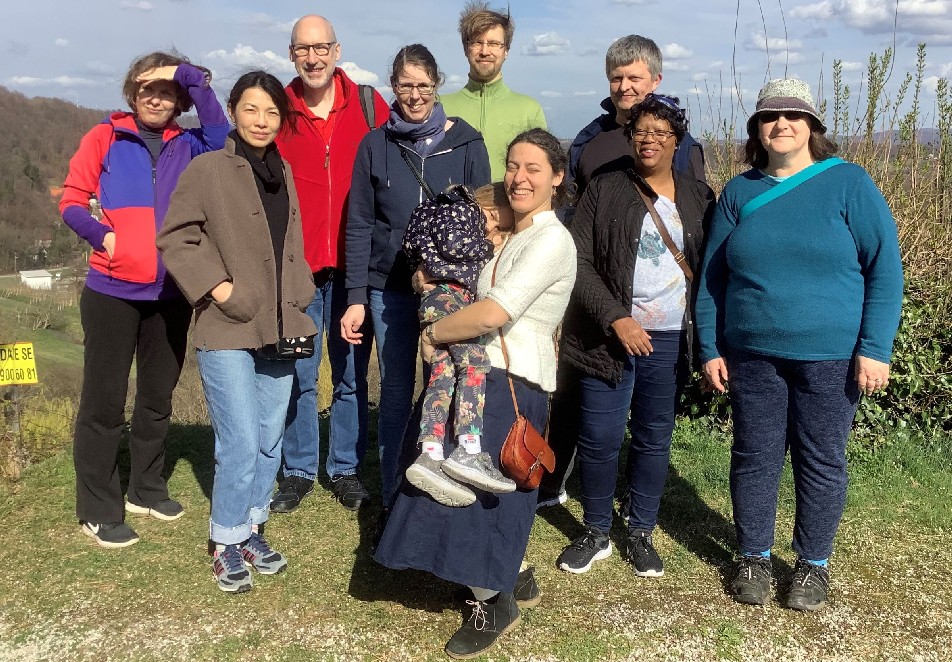 Closing Ceremony (March 14th, after final round)
Apart from the top players in the groups, there were 5 youngsters who won 5 out of 6 games.
All 5 were invited on stage as a group, to the applause of 250 onlookers. The UK were honoured to have three of these 5 winners - one in each age group - Andrew Volovich (U12 section), Julia Volovich (U16) & Lizzy Pollitt (U20). The 3 looked good on stage together, in their UK DeepMind-sponsored red hoodies. Julia and Lizzy attended last year's 3-day BGA summer Go camp, pleasingly.
All 5 received a trophy, and €50 voucher for one year's use of Guo Juan's online Go school, plus a bunch of flowers for the girls.
It had been a very well-organised event, especially with the coronavirus obstacles. So when the whole organising team, superbly led by Damir Medak, went on stage together after all prizes had been awarded, you can just imagine the generous applause they all received.
In short, a most enjoyable and successful event. Many thanks to Damir and his helpers.
More Photos and a Video
The event web-site has this menu of picture pages, with galleries taken during the Opening Ceremony, Round 1+R2, R3+R4, R5+R6, and Closing Ceremony. It also has this most amusing video, showing things that happened during the event and its excursions. The video was shown at the very end of the closing ceremony.
Next EYGC (2021)
One imagines that surely the BGA will expect to continue sending a UK team to EYGCs. Please keep an eye on the BGA Calendar, our Junior section or Newsletters for further details, in due course.
The venue is probably one of 2 places in the Czech Republic - either Prague or Karlovy Vary [aka its German name of Karlsbad] which is 72 miles from Prague airport, and also has its own international airport.
Format: prob. 6 days (3 learning then 3 playing - good!).
Date: prob. week 1 or 2 of March.
Venue: poss. a boarding school, as it's inexpensive, safe & fine.
Please keep an eye on the EGF Calendar for news, as and when more precise details are published.
Last updated Wed Mar 25 2020. If you have any comments, please email the webmaster on web-master AT britgo DOT org.