European Women's Go Championship Ends With Tie-Break
Sun, 05/09/2021 - 19:31

—

Tony Atkins
EWGC
OGS
Sat, 4 - Sun, 5 Sep 2021
The London Go Centre, with help from the British Go Association (including Matt Marsh as Tournament Director), ran the 2021 edition of the European Women's Go Championship. Unfortunately was is not held in London at the Go Centre (as originally planned for 2020), but was played online on OGS. The online games attracted audiences of up to 80 and Diana Koszegi (2p) analysed some on Twitch (will be uploaded later on the LGC YouTube channel). During the final round she commented with Benjamin Drean-Guenaizia (6d) live on three games, the top two boards and Julia Volovich's game.
Thirty players from 5d to 20k took part from ten countries, including for the first time Kyrgyzstan. Thirteen players started above the McMahon bar and it was likely the large Russian contingent here would dominate.
Indeed it was five-time winner Natalia Kovaleva (5d) and 2014 winner Dina Burdakova (5d) that ended the first day unbeaten. On the Sunday morning it was Dina that won their clash and Dina was expected to end unbeaten. Russian teenager Virzhinia Shalneva (3d) lost to Dina in round three but beat Natalia in round 5. She held on in the last round against Olesia Malko (1d Ukraine) to end on five out of six. The last round upset was Dina's loss, by 7.5 against Milena Bocle Reznikoff (2d France), so she too ended on five. Ending on four were Natalia, Milena and Anastasia Khlepetina (1d Russia).
The places were split by SOS as follows (provisional until anti-cheating checks complete):
Dina Burdakova (5 wins, sos 23)
Virzhinia Shalneva (5, 19)
Natalia Kovaleva (4, 22)
Anastasia Khlepetina (4, 21)
Milena Bocle Reznikoff (4,20)
Congratulations to Dina on becoming champion for the second time!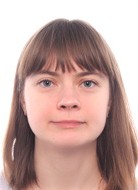 Top-graded UK player was Alison Bexfield (1d) who beat Lisa Meyer (1k Austria) and Alina Jakimova (1k Russia), but lost four including to Manja Marz (3d Germany) in the last round. Lea Wong (4k) beat Mariia Chernova (5k Ukraine), Elizaveta Antonova (3k Russia) and also Alena Jakimova.
The star at the lower end of the draw was our own Julia Volovich (13k) who won all six games, including a last round win by 2.5 over Elfia Khodzher (13k Russia), who won four games.
Last updated Wed Oct 06 2021.
If you have any comments, please email the webmaster on web-master AT britgo DOT org.