Sun, 29/08/2021 - 12:35

—

Tony Atkins
MSO
Sun, 22 - Fri, 27 Aug 2021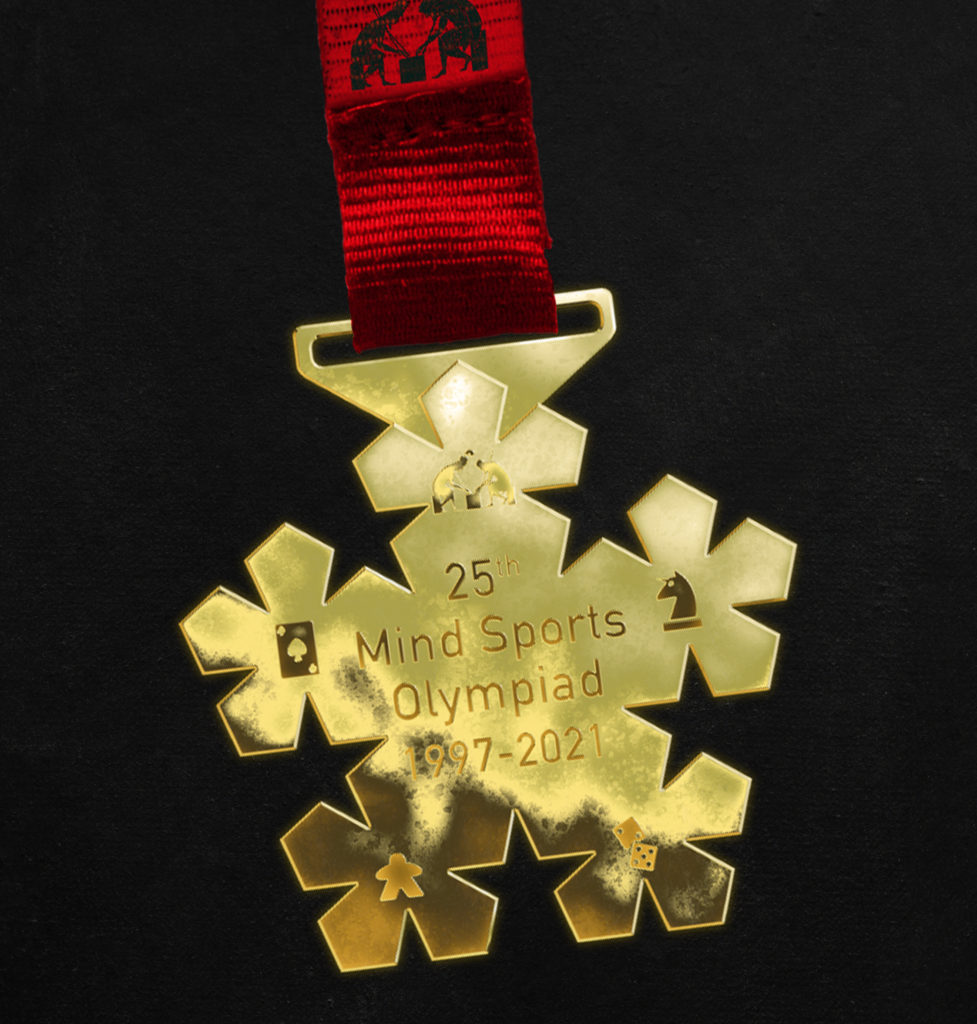 As in 2020, the 2021 Mind Sports Olympiad was held online. This year the normal round medals were replaced by a special design based around pentagons to celebrate it being the 5x5 or 25th edition (as shown).
The MSO Open (19x19) was held on the afternoon and evening of Sunday 22nd August. As usual with online events there were a handful of entrants who did not become players, but 40 people did take part. However four rounds makes a long event and 14 of the players quit early during the evening, some because of big time zone differences. Hiroki Kanno, the defending champion from Hong Kong, won all four games to take the gold position. In the last round he beat Yen-Jeung Chiang of Taiwan, who had expected to do well but had earlier lost to Chris Bryant. Because of the many drop outs it was easy to lose early to a strong player and then end up with three wins to get a medal. This happened to Sam Barnett (2k) who took silver and Tim Hunt (2d) who took bronze.
There were 11 juniors in the event and two of them, together with Italy's Pietro Lonardi (8k), won all four games below the 5k McMahon bar: Andrew Volovich (10k) and August Cai (14k). The gold junior medal went to Sam Barnett and silver to Lea Wong (4k). Results.
On the evening of Wednesday 25th the board size changed to 9x9. 22 players took part for the fun of five games, though the sudden death time limit saw two games end on the last move, which was only fun for one of the players. Again Hiroki Kanno won all games to take the gold position. Juan Francisco Garcia de la Banda (Paco) from Spain took the silver on four wins by SOS tie-break and two players tied for third: Alexander Taylor (Sandy) and Webber Tse; Tim Hunt just missed out on a medal. Webber, one of Hong Kong's top juniors, earned junior gold and junior silver went to Oliver Bardsley, who won three games. Results.
On Friday 27th it was the 13x13 event; it was a small friendly event with 12 players. Hiroki Kanno won all games to take the gold position for a third time in the year. Silver went to Paul Smith on three wins by SOS tie-break and three players shared bronze: Masayuki Ishida, Natasha Regan and Webber Tse. Again Webber got junior gold and this time Andrew Volovich got the junior silver, also with three wins. Results.
Last updated Thu Sep 30 2021.
If you have any comments, please email the webmaster on web-master AT britgo DOT org.