Much Go Demoing at JSNW Liverpool Japan Day Festival
Sat, 09/07/2022 - 11:23

—

Martin Harvey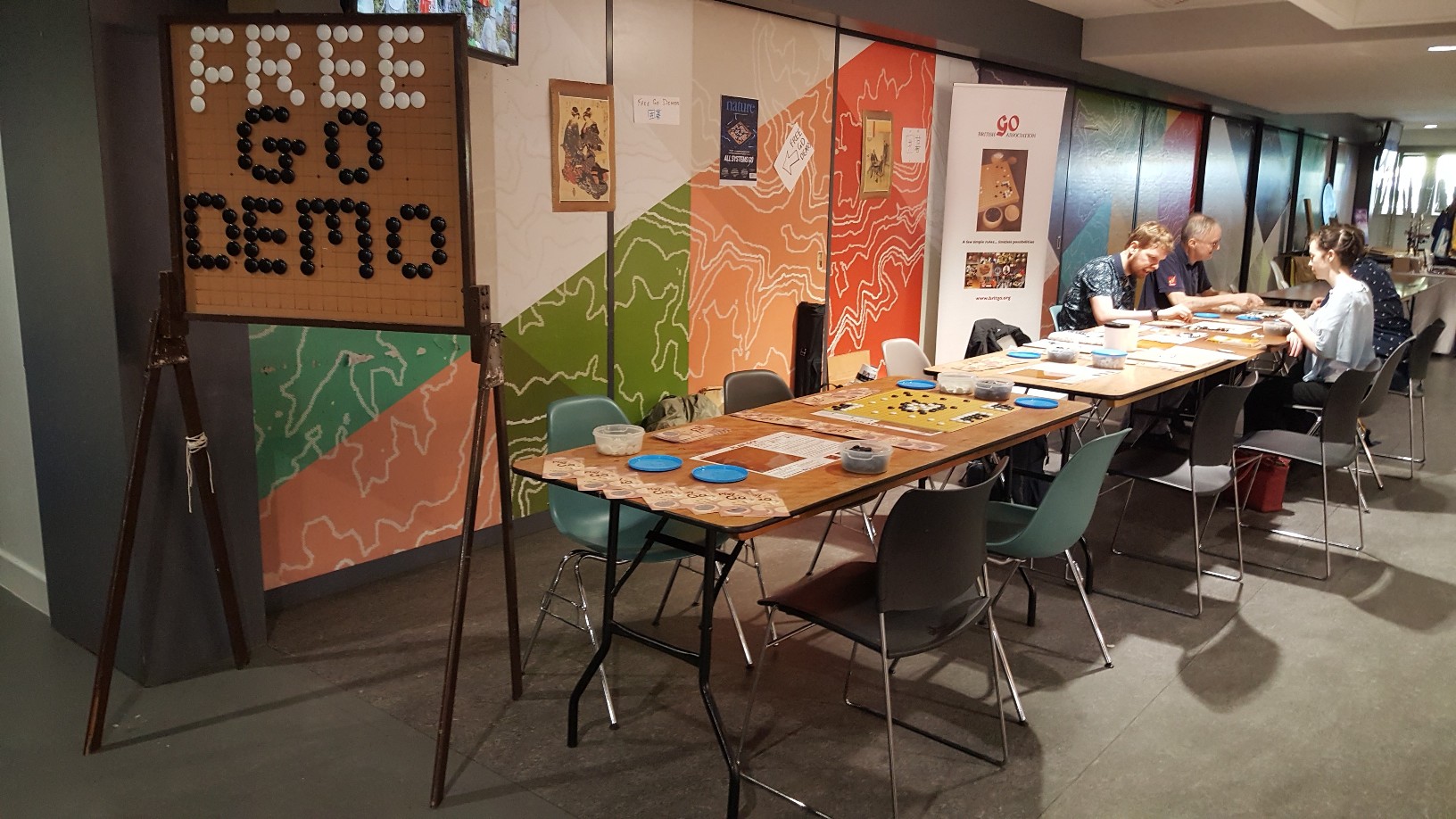 For Saturday 2nd July the friendly Japan Society North West (JSNW) asked the BGA team if we'd like to return, to run stalls at their Japanese festival.
We signed up for 3 stalls, unsurprisingly - we've featured at many JSNW Japan Days or Doki Doki festivals over the years, as Calendar and News-followers will know.
Some events have also been held in Manchester (see below).
There were many Japanese-themed actors, stage acts and stalls, so there was plenty to keep families interested all day.
This year's venue was the same as the previous one held in the city - the Liverpool University's Guild of Students, 160 Mount Pleasant, Liverpool L3 5TR
As ever, this was yet another very busy but fun day. Our prominent sign for "Free Go demos" caught the eye as ever, and we had a never-ending stream of people wanting to learn the game.
Some even came for a refresher from years earlier. Many thanks are due to 4 players from Liverpool club - Haruhi, Tom Wenink (she & he were able to stay all day), Teddy McManus and Leo Feng. It's so useful to have regular attendees form LGC's weekly venue, the Sugar'n'Dice games café on Cornhill. The 4 of them were able to describe directions to their club venue, although many people actually knew S+D, but didn't realise you could turn up and use their Go sets. The Liverpool 4 explained to all how welcome they would be if they turned up, even - or especially - as beginners.
We could have done with so many more people giving demos, and all of us ended up a bit hoarse, but anyway it was a great day!
During the event, we started as usual by showing people how to play Capture Go, and win by capturing 1 or more stones. Then, most wanted to be shown territory Go, with some wanting a few games.
We always like to teach 2 or more friends, as then they can immediately play against each other, sometimes with handicap stones. This really gets their interest, & the hands-on play brings home the rules and concepts. It was heart-warming to get people's positive feedback.
Many were interested in the local clubs, for which we always leave them details, with Liverpool, Chester, Manchester and Lancaster featuring highly, in places from where the public hailed, as we found out when asking them.
In the week immediately after the event, Chester had 1 new player turn up, from the demos day, and Liverpool even had 3!
It's also pleasing when we sell them Go sets. Mostly these were inexpensive "Durham Go sets", but we were also asked for 2 plywood 9 * 13 boards, and even a 19 * 19 board, with plastic stones and pots to hold them in.
So that's a good few more UK houses with a Go 'board', and many more who've learnt the basics, and taken a BGA trifold with the game's history, rules, stapled inserts of local clubs, and benefits of the BGA - including www.BritGo.org of course!
We even ended up with 5 stalls, as 2 more became free, so hundreds of demos were given. Did I say it was busy? Well, Helen and I managed a couple of small drinks during the day but then, only when collecting our stuff together were our stomachs able to remind us we'd been ignoring them all day ... it was MANIC!
*** STOP PRESS ***
Come and join us for Manchester Doki Doki Japanese festival, on Saturday 27th - Sunday 28th August 2022.
The format's much the same as that in Liverpool. In 2019, of the 4,000 attendees, we demoed to 200, or 5%.
If you could spare any time to join the BGA team - on one day or both - do please contact me ... harveymartin939 AT gmail DOT com
Last updated Sun Jul 10 2022.
If you have any comments, please email the webmaster on web-master AT britgo DOT org.