Tue, 22/11/2022 - 09:59

—

Tony Atkins
Northern
Sun, 20 Nov 2022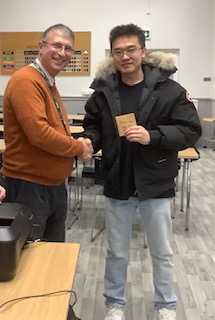 It was good to resume the Northern after the two year pandemic break by returning to Cheadle Hulme School on Sunday 20th November. Sizeable contingents from Sheffield University and Lancaster added to the pupils at the school and others to bring the total attendance to 32. The overall winner was Junlin Lei, 5d from Lancaster, shown here on the right receiving his prize. Zhang Wei, 5d from Manchester, was in second place. Also getting prizes for winning all three games were Marco Praderio (7k, Lancaster), Lucas Horton (9k), Rahul Surapaneni (13k, Cheadle Hulme School) and Joseph Martin (16k, Sheffield University). David Wildgoose (9k, Sheffield) got a prize for winning 2½ games.
Helen and Martin Harvey also organised a 13 by 13 side-tournament with the prize for that going to James Zhao (21k, Cheadle Hulme School), also shown receiving his prize.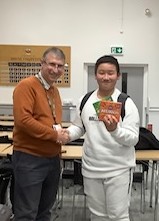 We are very grateful for the use of the school premises – an extremely pleasant venue with convenient parking – and to David Barnett, our contact at the school now that Mike Winslow has moved on, for supervising throughout the day and handing out the prizes.
Last updated Wed Nov 23 2022.
If you have any comments, please email the webmaster on web-master AT britgo DOT org.