Mon, 12/10/2015 - 09:14

—

Tony Atkins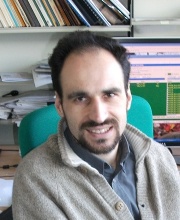 Reading Go Club player Alexei Likhtman, 44, died yesterday whilst in the USA.
Alexei, a Physics professor at Reading University, was in Baltimore for a conference. On Sunday 11th October he was exploring the Appalachian Trail in Maryland and was taking photographs at a beauty spot called Annapolis Rock. It seems he was jumping from rock to rock with a camera and tripod when at about 10:45 he tripped and fell 50 feet. Despite the efforts of other hikers and paramedics he died at the scene.
Alexei had moved to the UK from Moscow and had been at Leeds University from 1999 to 2007, before moving to Reading. He was a keen member of Reading Go Club when not travelling and had played at Bracknell and Maidenhead Tournaments. He last played a tournament at 9k, though he was still improving quickly.
Last updated Wed Oct 11 2017. If you have any comments, please email the webmaster on web-master AT britgo DOT org.