YOUTH GO NEWS supported by
Welcome to the eighth youth newsletter.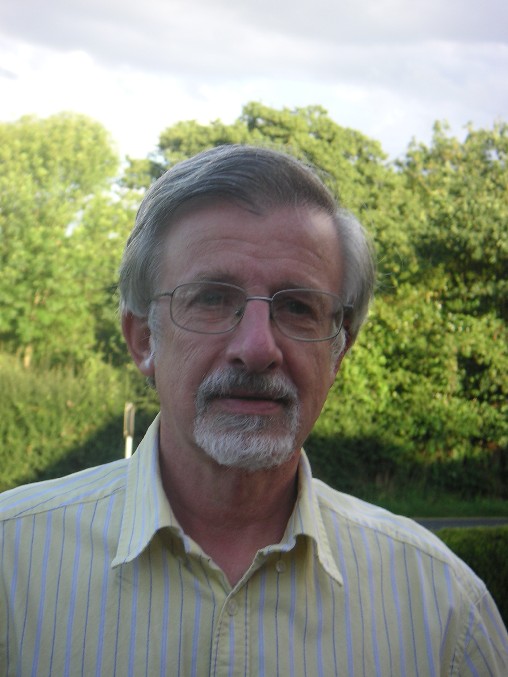 Editor, Toby Manning.
You are receiving this Newsletter as we believe you have an interest in Youth Go. If you do not wish to receive future Newsletters, or if you receive multiple copies, please let us know at ynews at britgo.org
If you have any suggestions for inclusion in future newsletters, please email them to: ynews at britgo.org
NEWS
2019/20 European Youth Go Team Championship
In November we played the first round of the European Youth Go Team Championship match against Russia, and lost five boards to nil. The team consists of 1 player aged under 20, 2 under 16 and 2 under 12. We always knew it was going to be a difficult match, as all the Russian A team are dan players. Yueran Wang, Bill Shen and Daniel Yang put up a good fight, but ultimately were unable to produce an upset. The other two boards produced the closest games, despite the bigger grade differences, with Edmund Smith losing by 16.5 points and George Han losing by just 3.5 points.
In December we played the Netherlands: it is their first appearance in the League. Their team is much weaker in strength than Russia, so we were able to play a different set of players from our squad of fifteen than the previous round. On paper we had the edge on four boards by one or two grades, with one board being a grade difference the other way.
A late substitution on board 5 for the Netherlands, due to sickness, gave Yanyi Xiong an easy game on board 5. Tom Bradbury, on board 1, gained a quick win after killing a group. Boards 2, 3 and 4 saw Scott Cobbold, Caleb Monk and Alexander Timperi making their debut appearance for the UK squad. All were able to turn in wins, giving us an excellent 5-0 win.
The next match is on 18 January 2020.
Cambridge Club Tournament
On 27 November, the Cambridge junior club held its club Go championship for the 36th time. There were 22 players, the oldest being 13 years old and the youngest just 6. Grades ranged from single-figure kyu to beginner. A couple of the players had only learned Go a week earlier, but still wanted to play in the competition! Yanyi Xiong won all his games and was the winner.
Youth Camp 2020
We will be running the Youth Camp at Caythorpe again in 2020. The confirmed dates are 24 - 27 August (3 nights), and the cost will be £250. You can download more information. We already have three confirmed entries.
British Youth Go Championship Report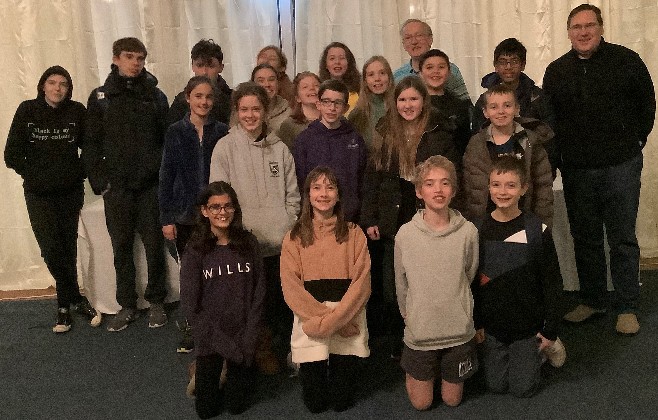 Cheadle Hulme School (CHS - shown left) proved they are the top British school for Go by both having the largest team at the British Youth Go Championships and by winning the Castledine Trophy. The top three of their 19-strong team won the team matches to get the trophy, beating Sir John Lawes School from Harpenden (3-0) and James Gillespie's High School from Edinburgh (2-1) (who beat SJL 2-1). The Best Junior School was Harpenden Academy, beating James Gillespie's Primary School (2-1).
The 2019 British Youth Go Championship (BYGC) was held on 30 November in the marquee of Brownsover Hall, a hotel near Rugby. Its central location attracted 55 competitors, aged from 6 to 17, though train strikes and motorway hold-ups delayed the start a little; ten of the original entries had to withdraw because of illness and other reasons. It was thanks to our youth Go sponsors, DeepMind, that such a good venue was available and all the competitors and adults enjoyed a very good buffet lunch with a variety of hot and cold dishes and even pudding.
The section winners (with runners-up in brackets and open winners in two sections), collecting winners' trophies and cash prizes, were:
U18: Jayden Ng (David Baldwin)
U16: Edmund Smith (Jonah Burnstone-Cresswell)
U14: Scott Cobbold (Alexander Hsieh)
U12: Zoe Walters (Emily Oliviere) - Open: William Zhibo Wang
U10: Daniel Yang (George Han) - Open: Gene Wong
U8: Alexander Timperi (Yanyi Xiong)
The Youth Champion was unbeaten Jayden Ng (1d) from Bromsgrove. The runners-up were Gene Wong (open section player) with four wins, Daniel Yang and George Han leading the group on three wins. The Beginners' Section winner was CHS's Ben Levy (34k), who won all five games. Winner of the Fighting Spirit prize was Erin Misselbrook (36k), also from CHS.
All other winners of four games received prizes of chocolates or sweets too: Hilary Bexfield, Jacob Rubert, Morgan Pittaway, Rowan Borrow, Oliver Bardsley, Yanyi Xiong, Rahul Surapaneni, Casey Jackson, Elianne Gupta and Connie Amer. Results
25th European Youth Go Championships 2020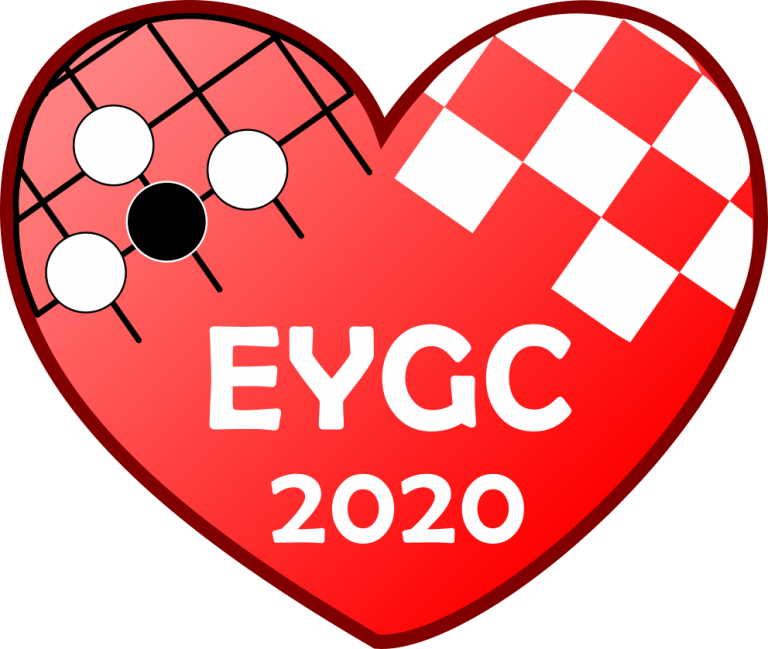 The 25th European Youth Go Championship will be held in the hotel "Matija Gubec", in Stubicke Toplice, near Zagreb, Croatia from 11 - 14 March 2020.
Martin and Helen Harvey have agreed to be team leader and coach for the event, and they will be taking a team of UK youngsters to the event - whether accompanied by a parent or not.
All players would be representing the UK and would receive a UK Team Hoodie (unless players already have one).
Anybody whose aged under 20 (on 1 January 2020) is welcome to go to the event, and Helen & Martin would prefer unaccompanied youngsters to be in school Year 7 or older (but please do ask them about exceptions).
There are 3 age groups - U12, U16 and U20 - see the event web site (below) for age cut-offs.
Helen & Martin have booked their accommodation at the hotel venue, and their flights Manchester to Zagreb via Heathrow; 11 - 15 March. Unaccompanied youngsters would need to connect up with these flights, or fly with another travelling BGA adult.
It's early days, but currently (at Christmas), there are 5 young players confirmed and 15 more interested. Their grades range from 25 kyu to 1 dan.
If you are interested, and have not already done so, then please contact Martin and Helen, at harveymartin939 AT gmail DOT com, to ask questions, apply or register interest. They will reply to you with full details to help you decide. There is more information on the event website.
Badges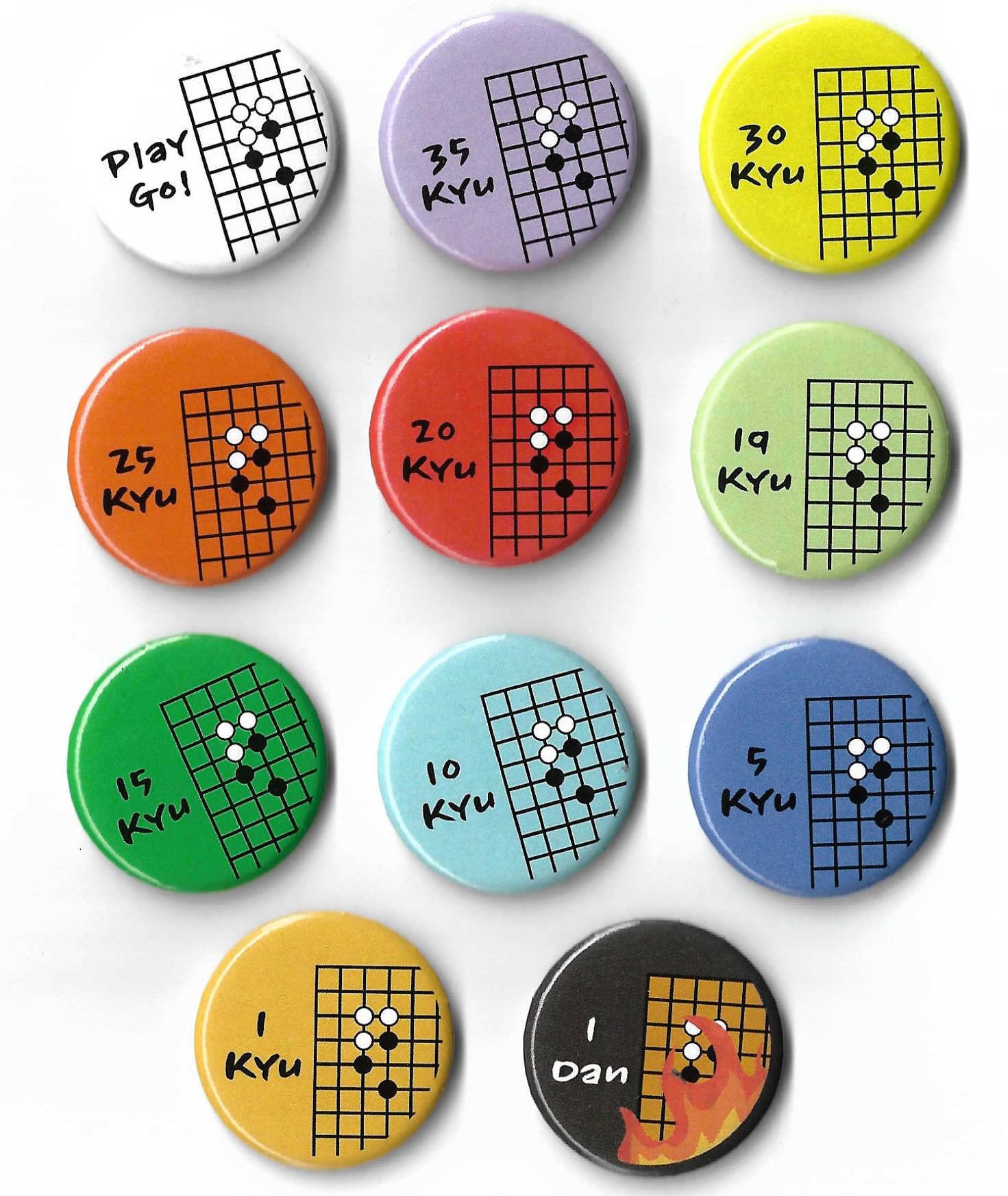 Have you got your badge?
We have badges for all levels of achievement - from the raw beginner up to 1 dan.
For more information please contact us at ynews AT britgo DOT org
Castledine-Barnes Trust
Did you know that we have a fund to help young people who need financial support in getting to Tournaments? The Castledine-Barnes Trust may be able to help you.
Caption Contest
What will the SToNE character be saying on the 2020 logo? Nobody entered this so the organiser won - what was his suggestion for the caption? Find out on the UK Go Challenge site.
Join the BGA
Did you know that you can join the British Go Association as an individual member for only £15/year (or £10 online-only membership) - see here for details
FUTURE EVENTS
Details of events open to all are on the BGA tournament calendar
LIFE AND DEATH PROBLEMS
Black to play and live ...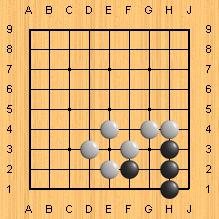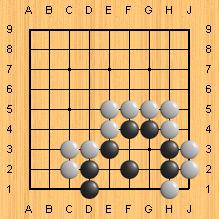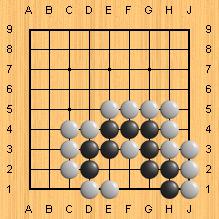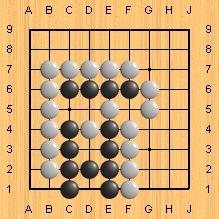 Last updated Sun Dec 22 2019. If you have any comments, please email the webmaster on web-master AT britgo DOT org.