YOUTH GO NEWS supported by
Welcome to the ninth youth newsletter.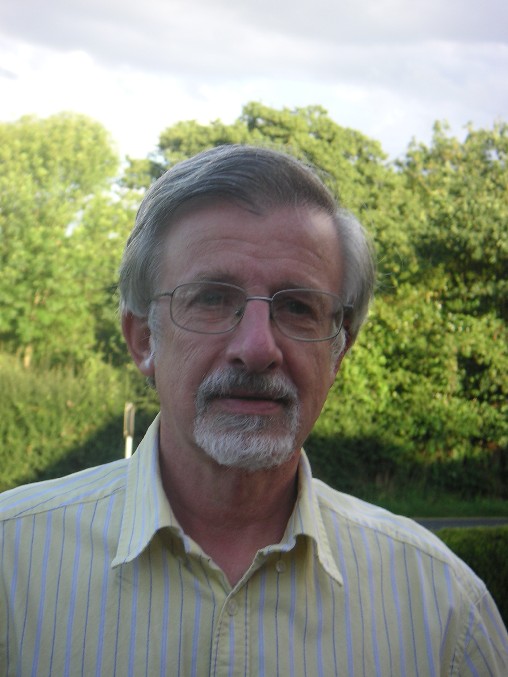 Editor, Toby Manning.
You are receiving this Newsletter as we believe you have an interest in Youth Go. If you do not wish to receive future Newsletters, or if you receive multiple copies, please let us know at ynews at britgo.org
If you have any suggestions for inclusion in future newsletters, please email them to: ynews at britgo.org
NEWS
2019/20 European Youth Go Team Championship
Third Round
The UK youth team played Romania in their third round match of the 2019/20 European Youth Go Team Championship (EYGTC) over the weekend of 18th and 19th January.
Alison Bexfield, team captain, writes:
Romania are a strong team so we fielded our strongest players this round. The match was split over two days, Saturday and Sunday at various times.
First on board 1 Yueran Wang was up against a very strong player (a 6 dan). He put up a really good fight with the online score estimate suggesting he was holding his own for much of the game but in the end the result went according to grade.
On board 3 our up and coming player Scott Cobbold was playing a 2 dan. Scott has improved rapidly since the autumn when he was playing at 6 kyu as his results in the London Open showed, putting him around 4 kyu. The game was exciting to watch being really close right to the end when Scott just clinched it by 3.5 points.
George Han (3 kyu) won his game by half a point, but the remaining team members were unable to emulate this performance and we lost 3-2. However Daniel Yang only lost by 8.5, whilst Bill Shen lost by resignation to a 3 dan.
Fourth Round
The team played their fourth (and final) match against Czechia, on 15th February. On paper we were fielding a team close in strength to those of our opponents, with the grades slightly in our favour.
Alison Bexfield, team captain, writes:
The first two boards were played early: Scott Cobbold played well to win by 7.5 points in an evenly matched game. Alexander Hsieh had another closely fought game but lost, also by 7.5.
Despite being two grades adrift of his opponent, Alexander Kalle took an early lead with severe attacks on several of his opponents groups. Unfortunately a slight miscalculation saw the game swing the other way with a Czechia win.
Board 5 saw Yanyi Xiong play a solid game to take a win. Although on paper Yanyi was two grades up on his opponent (15 kyu v 17 kyu), his opponent's online grade of 7 kyu suggested the difference in strength was more likely the other way round.
We needed a win on board 1 but unfortunately despite a long hard fought game Daniel Yang was unable to convert to a win. So we lost the match overall 2-3.
The team ended up 9th out of 15.
This season has seen us fielding some strong dan players against the top European teams as well as giving many of our newer less experienced players a chance to represent the UK against some of the weaker teams. This tournament format has proved surprisingly good over the years for encouraging our young players.
Youth Camp 2020
We will be running the Youth Camp at Caythorpe again in 2020. The confirmed dates are 24th - 27th August (3 nights), and the cost will be £250. You can download more information. We already have three confirmed entries.
European Go Academy
Season 11 of the European Go Academy begins at the end of March.
To join the Academy you need to be at least 10 kyu, and to be either British or a long-term resident in Britain. See the Academy web-site for web-site for more details. Academy students who are members of the British Go Association (see below) are eligible for a 50% grant on the 25€ fee. To apply for this grant please email ynews AT britgo DOT org
Youth Grand Prix
Did you know that we run the Youth Grand Prix each year? This is a competition which takes in all the Go events over a year; you get points for attending a tournament, and additional points for each win.
The 2019 season has just finished, and we congratulate:
Caleb Monk (Epsom) for winning the Tournament with 980 points
Edmund Smith (Cambridge) for coming second with 900 points
Alexander Hsieh (Cambridge) for coming third with 864 points.
Each of these gets a cash prize, kindly donated by the estate of John Rickard, a 4-dan who died in 2002.
UK Go Challenge
Are you aware of this cool competition you can run in your school or youth club? Each year tournament packs have been made so, if you buy a pack, you can run your own heat and then play in the national finals. We also allow folk who haven't played in heats to play the finals too, nowadays.
This year, however, we are making no charge to run a heat (simply register you are doing so). You can then download the sources of all the printed materials from the UKGC website and either provide all your own prizes or apply for a pack of the smaller prizes (fridge magnets and bugs) whilst stocks last.
More details of the Challenge are on the UKGC website
Join the BGA
Did you know that you can join the British Go Association as an individual "youth" member for only £15/year (or £10 online-only "student" membership) - see here for details
FUTURE EVENTS
Details of events open to all are on the BGA tournament calendar
LIFE AND DEATH PROBLEMS
Black to play and live ...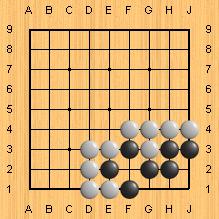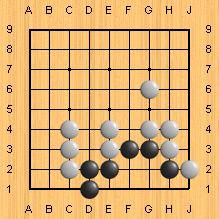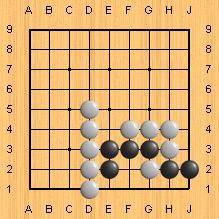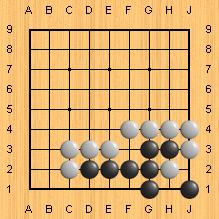 Last updated Wed Mar 04 2020. If you have any comments, please email the webmaster on web-master AT britgo DOT org.