Youth Go News 15 - March 2021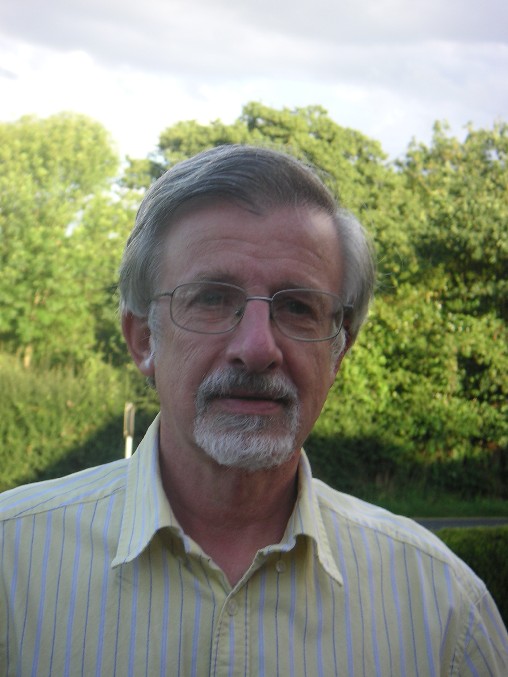 Editor, Toby Manning.
You are receiving this Newsletter as we believe you have an interest in Youth Go. If you do not wish to receive future Newsletters, or if you receive multiple copies, please let us know at ynews at britgo.org
If you have any suggestions for inclusion in future newsletters, please email them to: ynews at britgo.org
NEWS
European Youth Go Team Championship
Alison Bexfield writes:
The UK has taken second place in the European Youth Go Team Championship. As predicted, Russia took first place (having won the event for six of its seven years history).
This was the UK's best result and the first time we have made it into the top three places. This reflects the growing strength of the UK's team over recent years. In particular we have consistently had a good showing on the two U12 boards and this has moved up through the older age groups in recent years.
Our team comprised the following players:
U20 Jacob Zhang 3 dan
U20 Jayden Yui-Him Ng 1 dan
U16 Sam Barnett 2 kyu
U16 Edmund Smith 3 kyu
U16 Scott Cobbold 3 kyu
U12 Daniel Chun Yan 1 dan
U12 Ryan Zhang 3 kyu
U12 George Han 3 kyu
U12 Lea Wong 5 kyu
U12 Yanyi Xiong 9 kyu
U12 Alexander Timperi 10 kyu
For each match we had to field one U20 board, two U16 boards and two U12 boards. Our team did well through a consistently good performance on the U12 boards (where we won six out of eight games overall) meaning that we generally only had to pick up one of the top three boards to win matches where we were more likely to be outranked on paper.
It was an odd year since some of the stated grades were misleading. Some of our own players had improved significantly during lock-down but their grades at the start of the tournament did not reflect this. While we did reset some UK grades at the start to reflect this (and to make our board order sensible), we could not assume the countries we were playing had done this.
To achieve our second place we won 3-2 against France in round 1, lost 2-3 to Romania in round 2, won 5-0 against Turkey in round 3 and won 3-2 against Ukraine in the final round.
I am really pleased that all of our team were able to play in at least one of our four matches. (This is with the exception of Ryan who, for technical difficulties in accessing the online server, was not able to play this year).
Our two newcomers to the squad this year jointly take star player. Both Sam and Lea played in three of the four matches with both winning all their games. Our youth captain, Jacob, has also played exceptionally well against some very strong opposition, winning against a five dan in the final round. I'd like to thank all the team for their contributions. It is a team event and every one has contributed to the team's success.
February Youth Tournament
The February Youth Tournament was a handicap event played on 13x13 boards; there were 20 entrants. Alexander Timperi (9 kyu), Derek Duan (20 kyu) and Scott Cobbold (3 kyu) all ended up with 4/5; Alexander won the event on tie-break.
BGA Online Congress: Youth event
The March Youth Tournament was run as part of the BGA's Online Congress on 7 March. This was a European event, and there were 30 UK Juniors entered out of a total of 72. Six of them (Ryan Zhang, who came 3rd, Isabella Qiu, Oliver Bardsley, Julia Volovich, Derek Duan and Liann Wong) scored 4/5 in the tournament. Another notable result was that Andrew Volovich managed to score 3/5 despite promoting himself to 9-kyu, beating three 8-kyu players.
Other Tournaments
We are pleased to see that 13 UK Juniors have entered the 3rd Corona Cup, a European Tournament organised by Czechia and to be run during March/April.
In the match against Hong Kong Children's Go College we are currently ahead 13-10 (the winner is the first to 15). The games usually take place at 09:00 on Saturday and Sunday mornings (check the BGA's Junior Calendar) in the British Room on KGS, or you can watch the Hong Kong live stream on their YouTube channel.
A new European Team League has just started its trial edition with teams from UK and Germany. Organised by Marc Rieger of Germany, matches are played on OGS on 13x13 boards with each pair playing twice, once on handicap and once even. On 14th February a qualification round saw Düsseldorf beat Cheadle Hulme B 5-1, then on 13 March Berlin beat Edinburgh 3-3 n tie-break (Berlin won more even games) and Frankfurt beat Cambridge 4-2.
A new league with Li Ang's juniors from Beijing started on KGS on 13 March. UK players are Sam Barnett, Isabella Qiu, Jayden Yui-Him Ng, Scott Cobbold, Gene Wong, Daniel Chun Yan and Lea Wong. There were wins for Gene, Daniel and Sam.
FUTURE EVENTS (ONLINE/ON BOARD)
Our next Youth Tournament will be on 11 April on OGS (this has been delayed for a week to avoid clashing with Easter and the Paris on-line Go tournament), and will be a 3-round Rapid Play Handicap tournament to be played in the afternoon. Entries to Paul Smith.
Our May event on OGS will be on 2 May and will be an all-day rated tournament.
The European Youth Go Championship, initially scheduled for Czechia in March, has been postponed until 2022. If the event does take place in 2021 it will be during the European Go Congress in Ukraine, assuming that this goes ahead.
After the 2020 event was cancelled, our Youth Go Camp is scheduled to return to Caythorpe for a fourth year, from 16 - 19 August.
The UK is hosting the European Women's Go Championship in London, 4 - 6 September. To qualify, you must be female and have a UK or European passport, but of any age. If you are interested in attending please contact us at ynews at britgo.org as financial assistance may be available.
TEACHING RESOURCES
The Jena International Go School has a Twitch account.
Some of our younger players are members of the EGF Academy. This is a project that provides an online training site for Europe's most talented young players. It teams up powerful professionals from China and veteran teachers from Europe to offer European Youth a varied and solid Go education that until now was only available in the Far East.
The system runs in cycles, each lasting 4 weeks, and the cost is €25 per cycle, but the BGA offers a 50% discount. To obtain your discount please email youth-chair AT britgo.org. The minimum strength is 10 kyu. If you want to participate, plaease email Gabriel Wagner (gabriel DOT wagner DOT trier AT gmail DOT com).
Useful Resources
Here are some useful resources:
BGA Youth Go Twitter account (kept fairly active, 55 followers)
BGA Youth Go OGS (closed group, 116 members)
BGA Youth Go Discord Channel
BGA Website: Youth Pages
Result of last British Youth Championships (37 players)
Result of last UK Go Challenge (33 players)
Result of last BGA Youth Grand Prix (62 players)
LIFE AND DEATH PROBLEMS
Black to play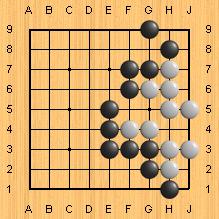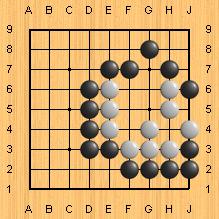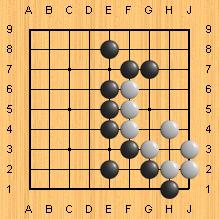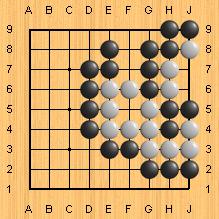 Last updated Fri Jul 16 2021. If you have any comments, please email the webmaster on web-master AT britgo DOT org.