Youth Go News 16 - May 2021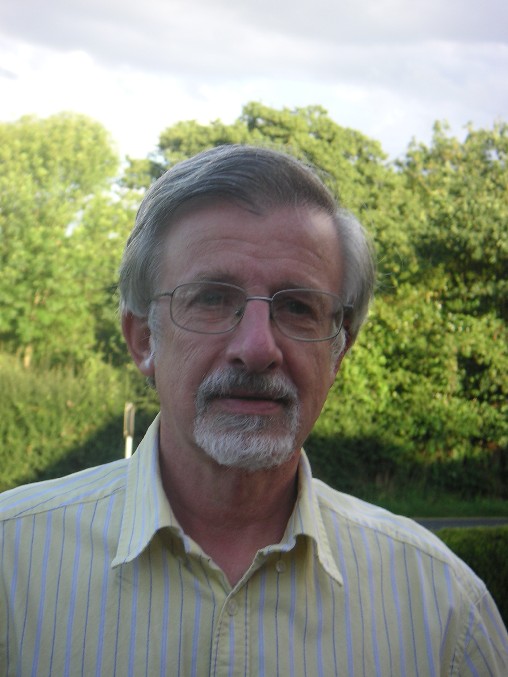 Editor, Toby Manning.
You are receiving this Newsletter as we believe you have an interest in Youth Go. If you do not wish to receive future Newsletters, or if you receive multiple copies, please let us know at ynews at britgo.org
If you have any suggestions for inclusion in future newsletters, please email them to: ynews at britgo.org
NEWS
April Youth Tournament
The April Tournament attracted 19 players. Winning all three handicap games were Derek Duan (13k Cambridge) and Caleb Monk (11k Epsom). Notable two wins went to Oliver Bardsley who only lost his second by half a point and Jan Kudla whose only loss was at the wrong handicap.
May Youth Tournament
We had received requests for a tournament with longer time limits, so the May Tournament was a whole-day even game event with 3 games. Unfortunately we only had 10 entries: congratulations to Clare Chen (2 dan Oxford) who won it with 3/3 and Alexander Timperi (9k Imperial) who got the lower section prize.
Other Tournaments
The first CCTV World Youth Amateur Online Weiqi Tournament had a four month gap before the finals were organised, because of covid. In these, as expected China beat Singapore and Huang Haicheng of China beat Alexander Qi. As previously reported our team was 13th and Ryan Zhang fifth in the Junior section.
The final game of the match aganst Hong Kong, that started on KGS on 7th November, was held on Saturday 10th April. Played using the Supergo format (last team standing) the match came down to the final players, of the fifteen on each team, playing a head-to-head. The previous weekend the UK's last player, Jayden Ng, had beaten five-game winner Ka Yau Chau. Hong Kong's last player of the team, put together by Liana Ao 4p, was Webber Tse. In a difficult game, Jayden fought bravely against the 5d, but lost a big group and another in time trouble before finally running out of time. This made Hong Kong the winners 15-14.
The League against "Li Ang Yi Tao" team from China continued, though exam pressure meant Jayden Ng had to stop playing. Congratulations to Sam Barnett who has 6 wins out of 6 (with 2 games to play).
Five teams from the UK joined four from Germany to take part in an "Anglo-German inter-town knock-out tournament"; this was intended to act as a prototype for a larger pan-European tournament in future years.
Each match was played over 3 boards; two games were played on 13x13 boards, one game even, the other with handicaps.
In the preliminary round Cheadle Hulme B lost to Dusseldorf. Cheadle Hume A then lost to London, Edinburgh to Berlin and Cambridge to Dusseldorf, but London team of Gene Wong, Scott Cobbold and Lea Wong then went on to beat Dusseldorf in the semi-final, but lost 4-2 to Frankfurt in the final.
OPEN MEETING FOR TEACHERS AND PARENTS
On June 6 the BGA Youth Committee is hosting an Open Meeting for all adults involved with the development and promotion of Youth Go, starting at 20:00, via Zoom. We will have presentations on Progress towards developing a Go Server specifically aimed at young people, and a Review of "what is going on". But the main objective is to give you the opportunity to communicate with the Committee and to give us your thoughts, requests and observations. We will send out more details, including how to join the meeting, a few days before it.
EUROPEAN RATING SYSTEM CHANGES
You may be aware that most Tournament games are submitted to the European Rating System, run by the European Go Federation, although this does not apply to games with time limits less than about 30 minutes. In March two significant changes were made: - The Algorithm to calculate your rating was changed - The lower limit, which had been 20 kyu, was extended down to 30 kyu.
For most players this means that your rating will have improved, due to the use of the new Algorithm. However, if your rating is at or near 20 kyu it may have gone down (for exampe, if you were genuinely 25 kyu then under the old system you would have been rated at 20 kyu, but now your rating should be more accurate.
FUTURE EVENTS (ONLINE/OVER-THE-BOARD)
June Youth Tournament (on-line)
This will be a 3 round tournament to be played on OGS during the afternoon of June 6.
June Teaching event (on-line)
On the afternoon of June 20 we will be running a teaching event, 14:00 - 16:30. There will be a small free of £5. Please let us know by June 6 if you are likely to attend (ynews AT britgo.org, giving your strength), so that we can arrange teachers suitable for your ability.
July Youth Tournament (on-line)
This will be played with 13x13 Boards on July 4 on OGS and will be the Finals of the UK Go Challenge.
Youth Go Camp
The youth camp is held at Caythorpe Court, near Grantham, Lincolnshire, NG32 3ER, with Go teaching in the mornings, outdoor activities in the afternoons, and informal Go tournament/play in the evenings.
The camp was held in 2017 and 2018 with a two night stay and in 2019 with a three-night stay; the 2020 Camp was cancelled due to Cornavirus.
The 2021 camp will take place from August 16 - 19. Details, including an entry form, are here. Closing date for entries: July 1.
Other Tournaments
The 2021 European Youth Go Championship, initially scheduled for Czechia in March and then postponed until August in the Ukraine, has been cancelled.
The UK is hosting the European Women's Go Championship in London, September 4 - 6. To qualify, you must be female and have a UK or European passport, but be of any age. If you are interested in attending please contact us at ynews at britgo.org as financial assistance may be available.
CAPTURING PROBLEMS
Black to play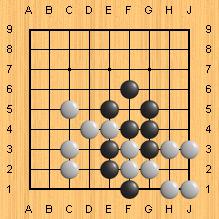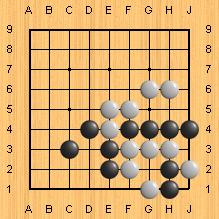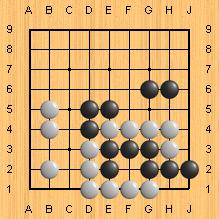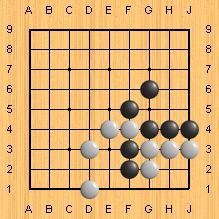 Last updated Mon May 17 2021. If you have any comments, please email the webmaster on web-master AT britgo DOT org.