YOUTH GO NEWS supported by
Welcome to the seventh youth newsletter.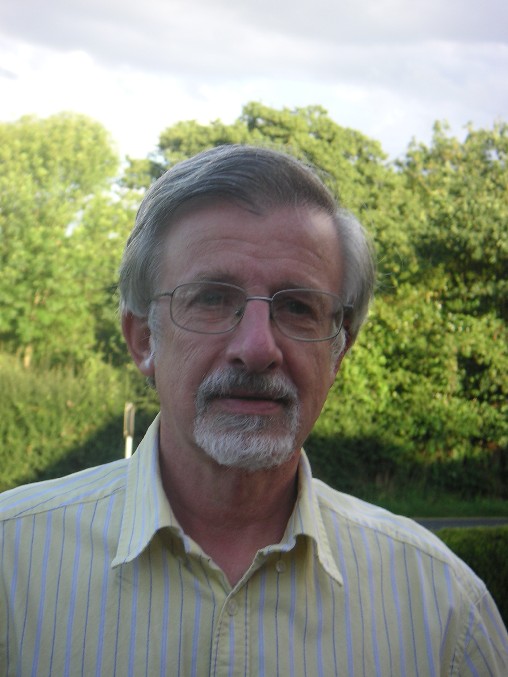 Editor Toby Manning.
You are receiving this Newsletter as we believe you have an interest in Youth Go. If you do not wish to receive future Newsletters, or if you receive multiple copies, please let us know at ynews at britgo.org
If you have any suggestions for inclusion in future newsletters, please email them to: ynews at britgo.org
NEWS
2019/20 European Youth Go Team Championship
The European Youth Go Team Championship consists of International matches played online, and will take place over the winter. Alison Bexfield, Team Manager, has selected a squad of fifteen players which comprises a mix of U20, U16 and U12 players; the team for each match will be selected from this squad. Each of the four matches will involve five players (one U20, two U16 and two U12).
The UK team has improved in strength each year since the championship first started and this year is no exception. The prospect of making it into the youth team and acquiring one of the distinctive red team hoodies has boosted youth go in recent years. Alison explains that she reviews the results from all rated tournaments during the year, to select new players for the team. Of particular interest for her are performances at the British Youth Go Championship and the UK Go Challenge, where performance against other youth players can be assessed. The UK Youth Go Summer Camp at the end of August (which Alison attends as a coach) is also a chance to talent spot. And Alison also looks to include the top-rated boy and girl each year subject to meeting a minimum grade standard.
This year's team sees a number of new faces, as some players have moved up an age group and other new talent has emerged. New faces this year include Scott Cobbold 6k and Amy Upton 12k making their debut in the U16 age group, as well as Bill Shen 1d who was a shadow member last year. Amy has taken over as top U18 girl from Charlotte (who has now moved on to university). In the U12 section we see two new faces: Ryan Zhang 13k and Alexander Timperi 15k. It is pleasing to see a broad geographical mix for the team, with players from a variety of locations and clubs represented. The team's first match will take place November 12 against the top team, Russia A.
The full team is:
U20 Yueran Wang 3d, Tom Bradbury 2k (British Youth champion 2018)
U16 Bill Shen 1d, Edmund Smith 3k, Scott Cobbold 6k, Alexander Hsieh 7k, Caleb Monk 11k, Amy Upton 12k (current top UK girl)
U12 Daniel Yang 1d, George Han 3k, Ryan Zhang 13k, Alexander Timperi 15k, Yanyi Xiong 15k, Zoe Walters 17k, Emily Oliviere 18k
Youth Camp 2020
We will be running the Youth Camp at Caythorpe again in 2020. The confirmed dates are 24-27 August (3 nights), and the cost will be £250. Here is more information.
British Youth 2019
A reminder that this will take place at Brownsover Hall, Rugby, on 30 November 2019. Here is an entry form.
There will be a mixture of even games in the championship and handicap games after elimination, played on full-sized 19-by-19 boards. Beginners and those new to the game are made particularly welcome and can select to play most of their games on 13x13 boards.
Youth titles at U8, U10, U12, U14, U16 and U18 will be contested, with trophies for each age group. In addition the titles of overall British Youth Champion and British Schools Team Champions will be decided. There is also a youth trophy that was presented by the Yomiuri Shimbun newspaper, the Castledine Trophy for the best school and a junior school trophy.
The entry fee will be £15, which includes tea, coffee and a buffet lunch, and is payable by accompanying adults too.
Here is more information.
Cambridge Junior's 25th Anniversary, incorporating the UK Go Challenge Finals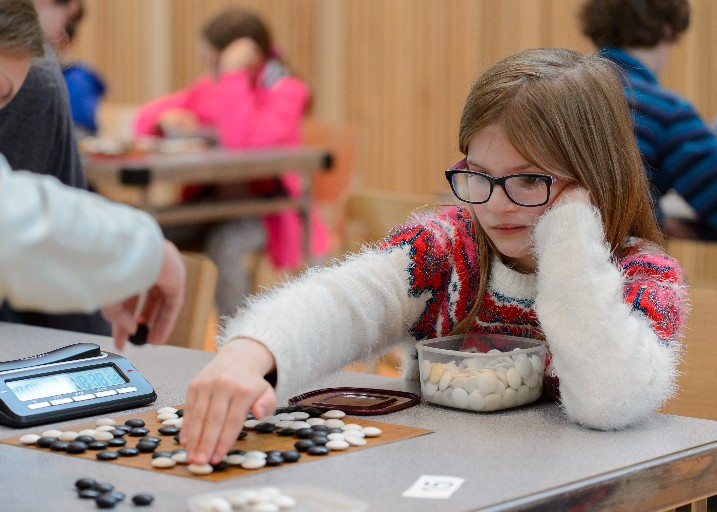 Twenty five years ago Paul Smith and some others started the Cambridge Junior Chess and Go Club. In order to celebrate their first quarter century they decided to run an event that would be attractive to both children and adults. As the UK Go Challenge Finals were not held in the summer as normal, they made the event the finals for 2018-2019, although this meant that deciding which age group players were in was harder than normal. In order to make it interesting for adults they combined the event with the 2019 British Small Board Championship, as both events are played on 13x13. It was good to see that event back after a five year gap, though it was suspected it was brought back as Paul Smith was fed up of having the trophy for so long!
The venue was the modern lofty hall in Storey's Field Centre in the newly constructed district of Eddington, with a separate room for relaxing and eating some of the large variety and numbers of cakes kindly provided by Andrea Smith and others in the family.
Having both events on together worked well with juniors able to play some games against adults, with the top juniors having the chance of beating some of the top adults, if not the very best. As usual the Finals included team matches, age group titles, the main title positions and seven rounds in all. Games were mostly against players of the same level, with draw masters Paul Smith and Tony Atkins managing to avoid assigning any handicap games for any of the 36 juniors.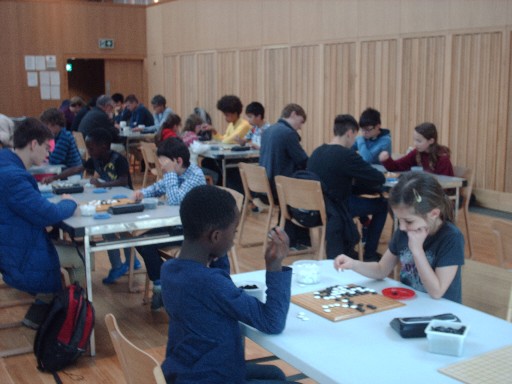 Winners:

U16 Boys  - David Baldwin 
U14 Boys  - Edmund Smith 
U12 Boys  - Oliver Bardsley 
U10 Boys  - George Han (Top Boy)
U8  Boys  - Alexander Timperi
U16 Girls - Hilary Bexfield
U14 Girls - Julia Volovich 
U12 Girls - Zoe Walters (Top Girl)
U10 Girls - Emily Oliviere
U8  Girls - Auden Oliviere

Overall place winners:

1st - George Han
2nd - Edmund Smith
3rd - Scott Cobbold

Challengers' Tournament - Louis Gringras
Champion School - Sir John Lawes, Harpenden
Champion Primary School: Harpenden Academy

The top three winners and the challenger each got a large framed certificate showing their achievement and a cash prize and all age group winners received a certificate and a cash prize. All other junior players winning four or more also won a prize. Full results are here.
Go Art
We were sent these two pictures drawn at the Go tournament in Cambridge on 13 October by Darin Odei (aged 6) and Rosalind Selby (aged 7). We hope you enjoy them! Maybe you can send us your own Go Art for the next Youth Go News?
Caption Contest
What will the SToNE character be saying on the 2020 logo? Send your entries, to arrive before the Youth Championship, to info@ukgochallenge.com and the best entry will be used on the website and fridge magnets!
Join the BGA
Did you know that you can join the British Go Association as an individual member for only £15/year (or £10 online-only membership) - see here for details
European Youth Go Tournament 2020
This will take place in Stubicke Toplice, near Zagreb, Croatia from 12 - 14 March. We have appointed Martin and Helen Harvey as coaches for the event; they will be travelling to Zagreb and will be present thrughout the Tournament to help out in the event of any problems arising. Here is some Preliminary Information
Castledine-Barnes Trust
Did you know that we have a fund to help young people who need financial support in getting to Tournaments? The Castledine-Barnes Trust may be able to help you.
FUTURE EVENTS
Details of events open to all are on the BGA tournament calendar
CAPTURING/LIFE AND DEATH PROBLEMS
Black to play...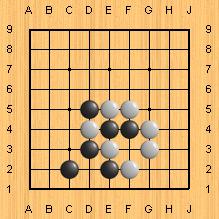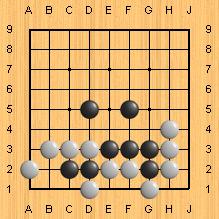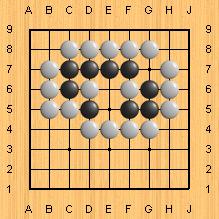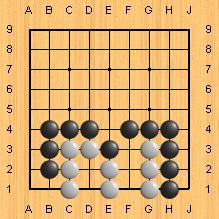 Last updated Tue Nov 12 2019. If you have any comments, please email the webmaster on web-master AT britgo DOT org.