Youth Go News 13 - November 2020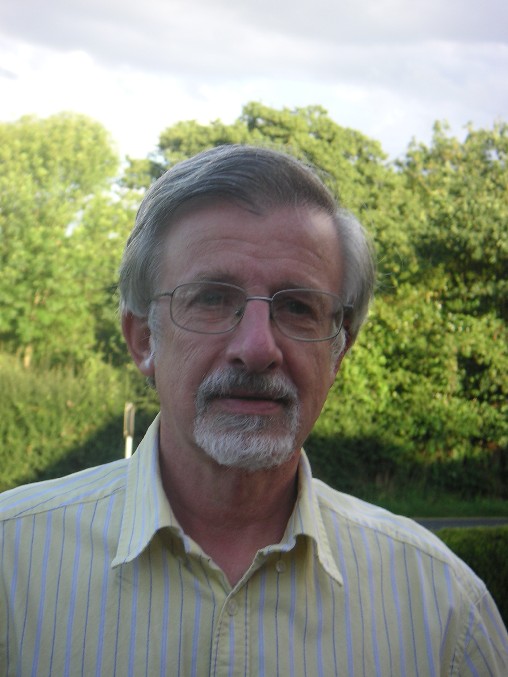 Editor, Toby Manning.
You are receiving this Newsletter as we believe you have an interest in Youth Go. If you do not wish to receive future Newsletters, or if you receive multiple copies, please let us know at ynews at britgo.org
If you have any suggestions for inclusion in future newsletters, please email them to: ynews at britgo.org
NEWS
Regular Meetings
We continue to have regular meetings online from 4pm to 6pm every Sunday afternoon in the BGA Youth group on OGS. Please come along if you can, there are now 90 members of this group! Parents and Go teachers can also join in. If you need any more information (for example, on how to use OGS or how to join the group) please contact Paul Smith.
Social Media
Please follow us on Twitter and like our page on Facebook. You will also find British Youth Go news on the BGA Youth web pages.
Youth Go Server
We are continuing to work with the American Go Foundation to develop a Go server for children.
Matches
On the morning of 11th October we had a five-player match against students of Shanghai professional Du Yufeng. Because of a mismatch of grades we won rather easily.
Following on from the Supergo match against China we are now playing against an team from Hong Kong Children's Go College. Good luck to the 15 selected players on our team. Details. After the first two games, the Hong Kong team were 2-0 up, but then Andrew Volovich won game three and game four. However there is still a long way to go!. The games will usually take place at 9am on Saturday and Sunday mornings. You can watch them in the British Room on KGS, but also the Hong Kong team are live streaming all the games on their YouTube channel.
UK Go Challenge Finals
The online youth event for October, held on the afternoon of Sunday 4th, was the delayed finals of the 2019-2020 UK Go Challenge. 33 young players battled over six rounds on 13x13 boards. This time the winner was Ryan Zhang from London. Second was Cyrus Hi Him Shek from Ayrshire and third was Gene Wong from Fernhill Primary School, on tie-break from Scott Cobbold and Lea Wong (Top Girl). David Baldwin and Caleb Monk, both 11k, notably won five games.
Age group winners:
Boys U08 Ryan Zhang
Boys U10 Gene Wong
Boys U12 Cyrus Shek
Boys U14 Scott Cobbold
Boys U16 Robbie James
Boys U18 David Baldwin
Girls U08 Liann Wong
Girls U10 Annie Walters
Girls U12 Lea Wong
Girls U14 Julia Volovich
Girls U16 Hilary Bexfield
Girls U18 - n/a
School matches were not played and the teams could not be split by percentage wins, so titles were shared: James Gillespie's High School Edinburgh and Cheadle Hulme School for senior schools; James Gillespie's Primary School Edinburgh and Fernhill Primary School Farnborough for primary schools.
Youth vs Adults
On 1st November we played a match where some of our top Juniors took on a team of adults over 6 boards. The youth team acquitted themselves well, winning two matches against four: AI analysis indicates that, in three of those matches, the youth player was ahead for much of the game but failed to convert this into a win.
Full Results (adult name is given first):
Tim Hunt beat Gene Wong
Default: free win to Jayden Ng
Tony Atkins beat Scott Cobbold
Richard Wheeldon beat Daniel Yang
Gokul Subramanian lost to George Han
John Bamford beat Lea Wong
Atta Chui lost to Isabella Qiu
Daniel Hu is making video reviews of all these games, which are appearing on the London Go Centre youtube channel. You can see the first one here: Gene v Tim.
Meanwhile Julia Volovich won the youth DDK tournament played at the same time, ahead of Caleb Monk and Oliver Bardsley. Lytton Yao and Theo Chui also both won 3/3 and both of them seem to have improved a lot recently.
CCTV World Youth Amateur On-line Weiqi Tournament
This Tournament held on the Chinese server called Yike and sponsored by Chinese TV. 22 teams from around the world take part on weekends between now and the end of the year.
Our first match was against Colombia and was won two games to one. Jayden Ng lost a close game to Juan David Ramirez Jimenez, Scott Cobbold beat Alan Yeray Cortes Sarmiento by resignation and Caleb Monk beat Alen Vasquez Quiroga by 64.5 points. In the individual junior section, where there are 26 players, Ryan Zhang did well, narrowly beating Yuki Kouchi of Japan.
The second match was against China 1. The team lost but notably Ryan won his game. The third match was against France, the same weekend as we were also playing France in the Euro Teams. Ryan continued his winning streak by beating Julie Blondeau (1k).
Youth Grand Prix
The Youth Grand Prix points have been updated after recent tournaments. Oliver Bardsley has a big lead with 942 points, Gene Wong is second with 635 and last year's winner Caleb Monk is third with 610. You can see the full scores at: Grand Prix 2020. The first three players at the end of the year all get cash prizes.
Corona Cup 2
We are delighted to see that 18 UK junior players have entered the second edition of the online Corona Cup, which is open to players from all over Europe (there are around 400 players altogether). Nine out of the 18 UK youth players won in round 1 - well done to Liann, Matthew, Andrew, Julia, Oliver, David, Alexander, Sam and Cyrus. We will keep you up to date with their progress!
European Youth Go Team Championship
Alison Bexfield has picked the main part of the UK team for this (but she can still add 3 more players). The team is as follows:
U20 players
Jacob Zhang* 3dan
Jayden Yui-Him Ng 1 dan
U16 players
Sam Barnett* 2k
Edmund Smith 3k
Scott Cobbold 3k
U12 players
Daniel Chun Yang 1d
Ryan Zhang 2k
George Han 3k
Lea Wong* 5k
Yanyi Xiong 9k
Alexander Timperi 10k
*New members this year.
This tournament is played over four rounds with five boards in each match of which one must be U20, two U16 and two U12.
Here are the other European teams. The first match was on Saturday 14th November, against France, which was won 3-2 with wins for Lea, Jacob and Sam. The second match is on 12th December, then 16th January and 13th February. It looks like the UK team will be among the strongest 5 or 6 teams in the competition this year.
FUTURE EVENTS (ONLINE)
British Youth Go Championships - Sunday 6th December on OGS - Free entry, for all British and UK-based juniors. 6 games of 19x19 from 10:00 to 17:00. British titles for age group winners (based on age at 31st August 2020). For details see entry form.
After this, there will not be a January youth tournament (we are taking a break for Christmas/New Year), the monthly youth tournaments will re-start in February.
EGF Academy The EGF Academy is a training site for strong youth Go players in Europe. There are leagues, game reviews, puzzles and lectures. The BGA pays half the cost of any UK junior player taking part. If anyone is interested in this please let me know. We have got three UK players taking part in the current cycle - Scott Cobbold and Gene Wong are in league 3 and Lea Wong in league 4.
SEYGO Tour The SEYGO tour is a series of youth Go tournaments which is normally held all over Europe but at the moment they are being held on OGS. The next one will start on 17th November, if you are interested, watch out in this OGS group for infromation about how to enter.
TUITION
Some of our younger players are members of the EGF Academy. This is a project that provides an online training site for Europe's most talented young players. It teams up powerful professionals from China and veteran teachers from Europe to offer European Youth a varied and solid Go education that until now was only available in the Far East.
Scott Cobbold writes: "The EGF academy is a Go academy for youth players where they are able to play against other youth players, have their games reviewed by professional players and improve.
My experience of the EGF academy
I first joined the Academy in its 11th season which started in March on the first cycle. I was put in league 5 (there were 6 in total) which has other players of around my level. There are many stronger players at the academy with league 1 containing players of around 4 dan or higher. Games are played on KGS twice a week (the days vary depending on the league you're in), there are also lessons 2 or 3 times a week which everyone is invited to attend. The lessons are currently done by Alexandre Dinerchtein 3p and Catalin Taranu 5p, both of whom are very knowledgeable and great at explaining things. Although I couldn't particularly put a finger on it, I know that my experience at the academy has definitely helped me see the Go board more clearly. Overall, the academy is great to join, so if you are a child like me, or if you are a parent of a child, then I would highly consider joining the EGF academy.
How are the games?
While the same can be said about other times, I believe that particularly now during the coronavirus outbreak there are many people who play online. However, online it can be hard to find longer games in which you can really think about moves; as well as this while I believe playing online can be great for improving, online the games are not as serious as face to face and you might not give it your full concentration. However, playing in the EGF academy allows you to play games which are long (1 hour 5x30s) and which encourages you to concentrate more. However, being still at school the time of the games can be an issue: they are at 3 o'clock in the afternoon British time, when I am still at school (or travelling home). While you are able to reschedule games, this can still be quite a hassle especially if you have a busy schedule - for instance last cycle (seasons are divided into 4 cycles), I was only able to play one game out of the 6 I should have.
How are the lessons?
The best part about the academy are the lessons and reviews from the professional players. The lessons by Alexandre Dinerchtein normally concern tesuji from real games or new moves, some of which you might find really cool or others really complicated. The tesuji range in difficulty all of them aren't too easy and require quite a bit of reading while other problems he gives us are so hard even AI misses them. Whether you do find the answers to the problems or not his explanations are so thorough that you always learn something. Catalin Taranu on the other hand goes over games played in the academy and sometimes professional games too, while in some cases you may think that you understand a move, he is able to show much deeper meanings and variations that you would never have considered. Other than that you also get nearly all of your games reviewed and put in a video, needless to say their insights are very useful; I particularly like watching reviews they do of people in league 1 who are a lot stronger than me, I know on my own I would never be able to fully understand or evaluate things their games.
Overall, the cost of €25 is pretty reasonable, partially because I don't have to pay it, but joking aside it is very good value for money. For instance, in other places for the cost of €20 you might get one game reviewed by a pro, but in the EGF academy you get around 5 games reviewed and - as said above - much more. Overall, I give the Academy ten out of ten and I would really recommend trying it out if you have the chance."
The system runs in 3-monthly cycles, and the cost is €25 per cycle, but as the BGA offers a 50% discount it is even cheaper. To obtain your discount please email youth-chair AT britgo.org. The minimum strength is 10 kyu.
LIFE AND DEATH PROBLEMS
Black to play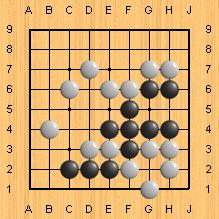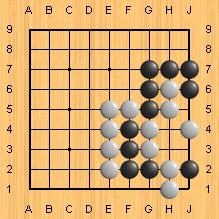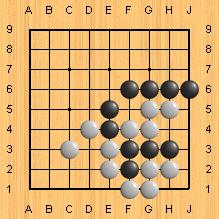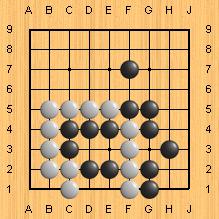 Last updated Thu Dec 17 2020. If you have any comments, please email the webmaster on web-master AT britgo DOT org.