Youth Go News 12 - September 2020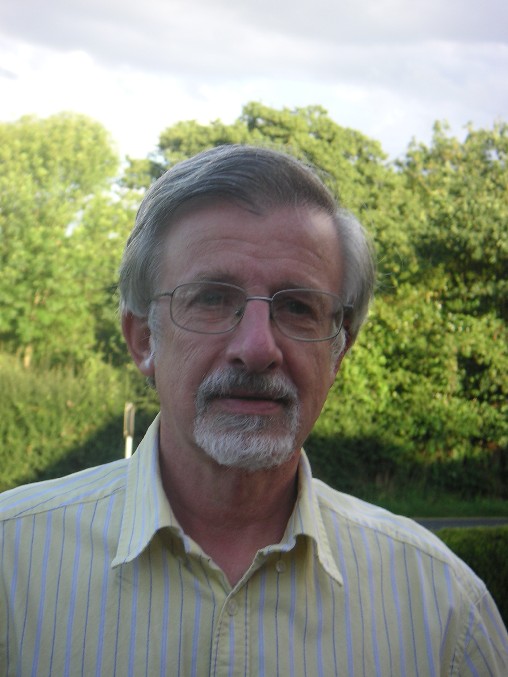 Editor, Toby Manning.
You are receiving this Newsletter as we believe you have an interest in Youth Go. If you do not wish to receive future Newsletters, or if you receive multiple copies, please let us know at ynews at britgo.org
If you have any suggestions for inclusion in future newsletters, please email them to: ynews at britgo.org
NEWS
Youth Go Server
In collaboration with a team from the American Go Assocaition we are developing a Go Server which will be specifically aimed at children aged 6 - 13. A small task force, consisting of BGA and AGA members, has therefore been established to develop it on a commercial basis. It will be based on the OGS (online Go Server) architecture; the Castledine-Barnes Trust will contribute 25% of the cost, with the American Go Foundation (the charitable arm of the AGA) contributing the rest. We will share full intellectual property rights with the AGF.
The Server will include child protection safeguards.
We will also include some aspects helpful to beginners, for example indicating when stones are in atari. But do not worry, this aspect will be switched off for our stronger players.
One of the development requirements is a simple exposition of the rules, and the task force is looking for an exposition suitable for the target age range. If you feel you can help, please contact the BGA Youth Committee (youth@britgo.org).
Match with China
The "Supergo" match on KGS between twelve British youth players and a team of twelve Chinese youth players continued throughout July and into August. After the strong runs of some of our early players, the last Chinese player Li Yuze won six games in a row to set up a final against our last player, Jayden Ng (British Youth Champion). After an exciting game Jayden won by 11.5 to complete the match in our favour. Our congratulations go to all who took part and our thanks to the youngsters from the The Li Ang Go Collection Team for playing us.
British Youth Training Tournament.
On 7th September all British youth players who had reached at least 20 kyu in strength were invited to this online tournament. It was a three round even game tournament to test the players in tournament conditions and see who has been improving. We expect players wanting to be selected for the British Youth team to try to participate in these events.
This was our second such event. We were missing some of our top players who were in transit back to schools but still had an excellent turnout of 32 players (including our ghost) from a variety of locations including Scotland, Cornwall, Manchester, Oxford, Cambridge, London and Epsom. This time we had a closely fought top group with six players all around 3 kyu in strength. This group included a couple of players who have risen rapidly in strength over the past six months. One of these rising stars, Sam Barnett (U16), was undefeated to take first place. Other players who finished on three wins included Megan Upton (U16, 15kyu, Cheadle Hume) and Lytton Yao (U12, 18 kyu, Scottish youth).
If any Youth player thinks they qualify for these tournaments but did not receive an invitation, please contact youth@britgo.org.
FUTURE EVENTS (ONLINE on OGS)
UK Go Challenge Finals - Sunday 4th October. Free entry, for all British and UK-based juniors. 6 games of 13x13 from 14:00. Certificates and medals for boy/girl age group winners (based on age at 31st August 2019). Entry details.
Youth Training Tournament and Youth-Adult Match - Sunday 1st November
British Youth Go Championships - Sunday 6th December - Free entry, for all British and UK-based juniors. 6 games of 19x19 from 10:00 to 17:00. British titles for age group winners (based on age at 31st August 2020).
Future Matches
Following on from the Supergo match against China we are next playing against an team from Hong Kong Go School. Good luck to the 15 selected players for when the match starts on Saturday and Sunday mornings from mid-October.
On the morning of 11th October we have a five-player match against students of Shanghai professional Du Yufeng.
We have also put forward five club teams to the prototype event for the proposed European Youth Team League.
Further to that we will be putting a team of three youth players and one under-12 player in the CCTV World Youth Amateur On-line Weiqi Tournament that runs at weekends in November and December.
And finally we shall be entering a team for the European Youth Go Team Championship, to be played online on KGS. Alison Bexfield will act as team manager, and she will identify a squad of 15 players from which a team of 5 will be selected for each match. The 5 players must include 2 Under 12's and 2 Under 16's. All players need to have British nationality, or to have been resident in the UK for at least 2 years.
Watch out for reports from these exciting events later in the year.
LIFE AND DEATH PROBLEMS
Black to play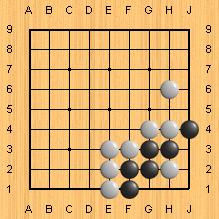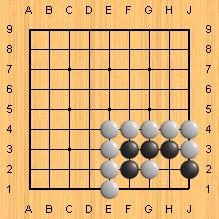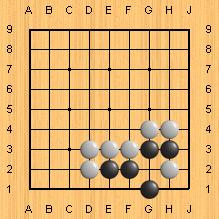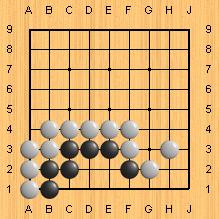 Last updated Mon Sep 28 2020. If you have any comments, please email the webmaster on web-master AT britgo DOT org.