Hi Everyone!
With only 3 weeks to go in the run up to Learn Go Week on Saturday 13th September 2014, this is an update to let you know what is planned in the UK! It also describes the international effort occurring to get more people playing Go/Weiqi this year!
We've had lots of interest by volunteers, which is fantastic news so thank you for all the support in this event! There are plans underway for extra Go playing sessions happening in the UK throughout Nottingham, Chester, Bournemouth, London and Greater London, as well as all the usual club meets! The enthusiasm and support is great for our first year getting involved with Game Guru's event.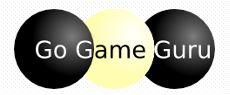 Released on Game Guru's website is an event signup form for those arranging a public go gathering session, during Learn Go Week, so please do sign up. You'll see from the form, with still 3 weeks to go, there are many locations signed up across the globe already!
As mentioned in the Original Learn Go Week post, in order for us to keep updated with your event, no matter how big or small it is, please follow, like and share posts with us on

and

- It will also give other people extra encouragement to get their go gathering off the ground!
If you Tweet about Learn Go Week or your event, be sure to include hashtags #learngoweek, #Gogames, #boardgames in the post and also tag @Britgo, to give it maximum circulation online and to keep us up to date with the events you have planned in the UK as they happen!
Game Guru have also released an excellent Go Ninja – How To Guide describing how to promote and teach Go on a budget! We recommend to check it out whether you are organising an event this year or not, as it's incredibly informative for new event organisers and has some excellent pointers for making temporary boards to teach new players generally!
There has been lots of digital interaction with posts popping up across forums, such as Life in 19 x 19, Brit Go Forum and OGS, as well as tweets and posts across Facebook and Twitter, so there is definitely momentum growing! OGS have even outlined a schedule for teaching events organised for during Learn Go Week to encourage new players further and to help get them started!
Remember, you can also download Play Go Marketing material from the British Go Association site. Also, for the online teaching sessions for beginners to be held on Kiseido Go Server via the britgo teaching account, during Learn Go Week and the week following, we will be releasing flyers about the teaching sessions on the 1st September, to be distributed at your event. The sessions will be run voluntarily by Roger Huyshe and will be geared up to introducing new players to the game of Go, so any further ideas or volunteers are welcome too!
As always, please get involved arranging an event, spread the word via

and

, as well as any other forums you are active on, and keep sending all the great thoughts and ideas our way via email!
Keep in touch and all the best,
Maria Tabor
... Oh and just because I was reminded of this in the week... An interesting interview with Nolan Bushnell -
Worth checking it out, below, if you haven't seen it before already!
"My favourite game of all time....?" From an inspiring entrepreneur @NolanBushnell! http://t.co/tg5LtuGegI @youtube #videogames #Weiqi #Go

— British Go (@britgo) August 22, 2014
Maria Tabor
Last updated Tue May 05 2020. If you have any comments, please email the webmaster on web-master AT britgo DOT org.