All Go for British Youth at Space Centre
Mon, 28/11/2016 - 12:55

—

Tony Atkins
British Youth Championship
Leicester
Sun, 20 Nov 2016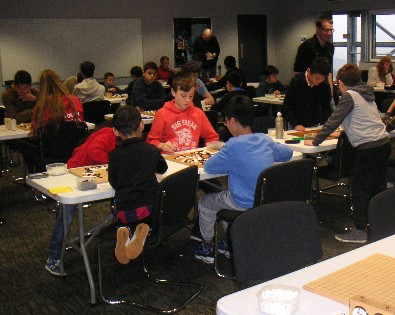 This year the BGA decided to hold the British Youth Go Championship at the exciting location of The National Space Centre in Leicester. Previously used as the venue of the East Midlands Tournament, the conference rooms made a very comfortable venue for the 43 young players, aged from 5 to 17, grades 2d to 37k, and their adult helpers. There was a long lunch break so there was a chance to view the exhibition, however the promised free tickets did not materialise.
The players battled over five rounds to decide the winners in each age category and in the team competitions, as well as the overall winner. This was all kept together by tournament director Tony Atkins using the Smudgy draw system (invented by Simon Goss). However despite one or two data errors, players playing the wrong opponents or suddenly announcing early departure, causing some problems, the youngsters did not complain and were happy whoever they played and many went away grasping Go book prizes.
Section Winners (& runners-up)
Youth Champion: Zaki Betesh (Elom Willson)
U18: Elom Willson (Alex Terry)
U16: Zaki Betesh (Tom Bradbury)
U14: Josh Gorman (Aidan Wong)
U12: Edmund Smith (Alexander Hsieh)
U10: Hanna Kudla (Sam Beck)
U8: George Han (Jianzhou Mei)
Open Champion: Yueran Wang (Bloxham) - also U16 Open Champion
U8 Open Champion: Alfred Shu (Reading)

Best School (for the Castledine Trophy): Impington Village College, near Cambridge
(Cheadle Hulme School, south Manchester beat Edward VI (Aston) School 2-1 and Impington beat Cheadle Hulme 2-1)
Best Junior School: James Gillespie's Primary, Edinburgh (beat Milton School, Cambridge 2-1)

The best puzzle-solver (based on their grade and expected score) was Jan Kudla.
Last updated Tue Jan 05 2021. If you have any comments, please email the webmaster on web-master AT britgo DOT org.