British Go Congress Held in Manchester
Mon, 08/04/2019 - 23:09

—

Tony Atkins
British Go Congress
Manchester
Fri, 5 - Sun, 7 Apr 2019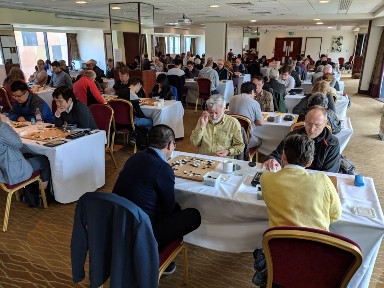 Each year the British Go Congress is held in a different place, with the BGA's Annual General Meeting on the Saturday evening. The 2019 edition was held in the MacDonald Hotel on Manchester's London Road, not far from Piccadilly Station. The weekend started with a teaching session on Friday afternoon with Toby Manning. That evening the British Open Lightning was held; it was won by London's Peikai Xue (2d), shown below left with the trophy.
On the Saturday and Sunday 80 players, many of whom were below 10k, enjoyed the usual six round British Open tournament. It was for the first time won by Chao Zhang (6d) from London, with six wins. Zherui Xu (4d) from Cambridge was placed second with five wins, ahead of Zihe Zhao (4d Oxford) and Nagisa Matsuura (1d Leeds). The fast improving Adam Sharland (14k Nottingham) won all six games and winning five were Jetrie Griffiths (18k Cheshire) and Charlotte Bexfield (7k Letchworth). Chao Zhang is shown receiving the Minds in Conflict Trophy from Toby Manning below right. Toby also rewarded two of the youngsters present, Rowan Borrow and Elliot Barlow who were the winners of the 2018 DDK Grand Prix.
Last updated Mon Apr 08 2019. If you have any comments, please email the webmaster on web-master AT britgo DOT org.