Cheadle Hulme are Top British School
Mon, 02/12/2019 - 18:17

—

Tony Atkins
British Youth
Rugby
Sat, 30 Nov 2019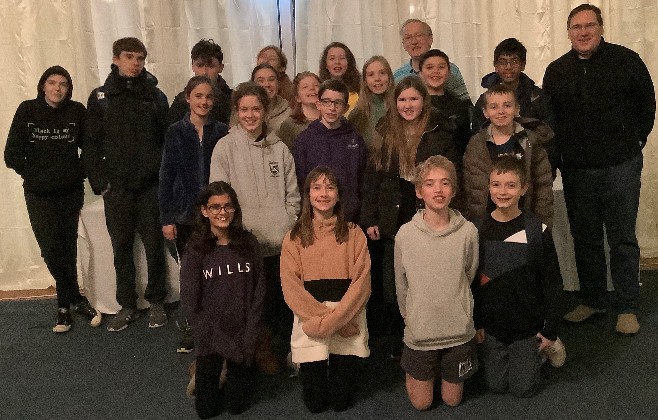 Cheadle Hulme School (shown left) proved they are the top British school for Go by both having the largest team at the British Youth Go Championships and by winning the Castledine Trophy. The top three of their 19-strong team won the team matches to get the trophy, beating Sir John Lawes School from Harpenden (3-0) and James Gillespie's High School from Edinburgh (2-1) (who beat SJL 2-1). The Best Junior School was Harpenden Academy, beating James Gillespie's Primary School (2-1).
The 2019 British Youth Go Championship (BYGC) was held in the marquee of Brownsover Hall, a hotel near Rugby. Its central location attracted 55 competitors, aged from 6 to 17, though train strikes and motorway hold-ups delayed the start a little; ten of the original entries had to withdraw because of illness and other reasons. It was thanks to our youth Go sponsors, DeepMind, that such a good venue was available and all the competitors and adults enjoyed a very good buffet lunch with a variety of hot and cold dishes and even pudding.
The section winners (with runners-up in brackets and open winners in two sections), collecting winners' trophies and cash prizes, were:
U18: Jayden Ng (David Baldwin)
U16: Edmund Smith (Jonah Burnstone-Cresswell)
U14: Scott Cobbold (Alexander Hsieh)
U12: Zoe Walters (Emily Oliviere) - Open: William Zhibo Wang
U10: Daniel Yang (George Han) - Open: Gene Wong
U8: Alexander Timperi (Yanyi Xiong)
The Youth Champion was unbeaten Jayden Ng (1d) from Bromsgrove. The runners up were Gene Wong (open section player) with four wins, Daniel Yang and George Han leading the group on three wins. The Beginners' Section winner was Cheadle Hulme's Ben Levy (34k), who won all five games. Winner of the Fighting Spirit prize was Erin Misselbrook (36k), also from Cheadle Hulme.
All other winners of four games got prizes of chocolates or sweets too: Hilary Bexfield, Jacob Rubert, Morgan Pittaway, Rowan Borrow, Oliver Bardsley, Yanyi Xiong, Rahul Surapaneni, Casey Jackson, Elianne Gupta, Connie Amer.
Last updated Mon Dec 02 2019.
If you have any comments, please email the webmaster on web-master AT britgo DOT org.