Two Andrews to Play Title Match
Tue, 28/05/2019 - 15:53

—

Tony Atkins
Challengers' League
LGC
Sat, 25 - Tue, 28 May 2019
The Challengers' League, the second stage of the British Championship, took place over four days this Bank Holiday weekend at the London Go Centre. The event was held alongside the Not The London Open Tournament and the players were able to take advantage of having Antti Tormanen (1p) present to review games.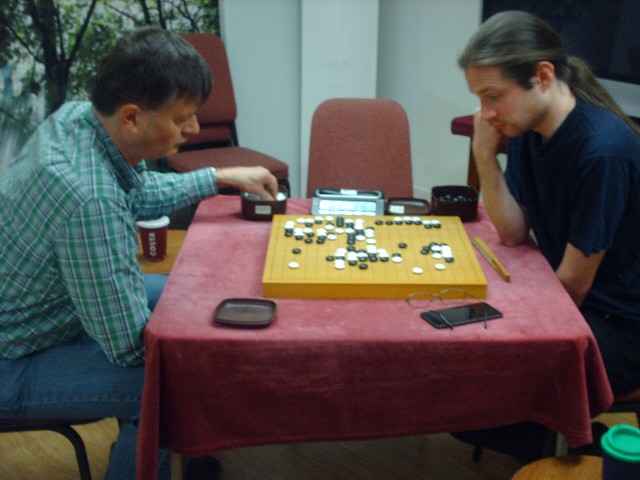 Last year's champion, Sam Aitken, decided not to defend his title, which meant that there were places for seven qualifiers from Candidates' Tournament plus the runner-up from last year, Andrew Simons. Unfortunately some of the top players from that event couldn't take part, so several reserves got to play. The format was the usual all-play-all seven round tournament, with long time limits and no more than two games a day.
Andrew Kay (shown right against Alex Rix) topped the standings by winning all of his games and Andrew Simons won all his games except his one with Andrew Kay thus finishing second. The two Andrews will now play in the best-of-three title match games to decide this year's British Champion.
Final standings:
Andrew Kay (7 wins)
Andrew Simons (6 wins)
Boris Mitrovic (4 wins)
Alex Rix (4 wins)
Alistair Wall (3 wins)
Tim Hunt (2 wins)
Christian Scarff (2 wins)
Harry Fearnley (0 wins)