Shortened Skye won by Matthew Reid
Tue, 17/03/2020 - 10:38

—

Tony Atkins
Skye
Portree
Sat, 14 - Sun, 15 Mar 2020
A decade since the first, the 6th Skye Go Tournament was again in the Tongadale Hotel, Portree, reports organiser Carel Goodheir. Their generosity is what has made the tournament possible, but they now make more use of the dining room and unexpectedly we were told we had to vacate it 1.5 hours earlier than previously. This resulted in the third round on Saturday being cancelled. By starting earlier we managed all three on Sunday - thus it was a five round tournament not six as planned.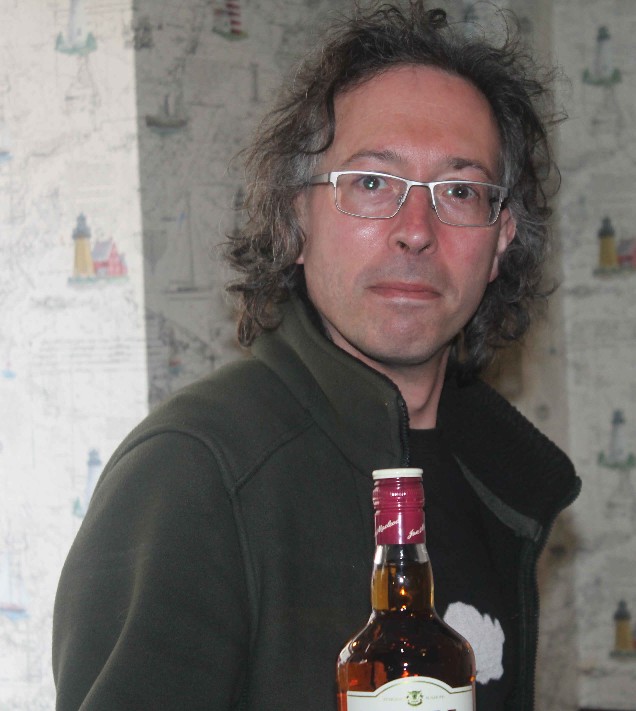 Matthew Reid (2k Cambridge) won all five to take first place and is shown left with the "Isle of Skye" whisky (not Talisker as Diageo generously donated that five times, but decided a sixth was overdoing it). Edward Blockley (5k No Club) and Edwin Brady (2k St Andrews) each won four and John Collins (10k St Albans), Rab Fulton (1d Glasgow), Carel Goodheir (9k Skye) and Neil Sandford (15k Edinburgh) won three. 11 people played in the 9X9 league: Serie A was won by Matt Reid, B by Peter Collins and C by Greg Cox.
John Collins took some good photos: photos of the Saturday night meal are 2723 - 2728, photos of the prize giving are 2739 - 2752.
Only two players cancelled because of COVID19, but more may have decided not to register in the first place. Numbers were down to 21, about 2/3 of our usual, but this time the weather caused no problems.
Will there be a seventh? The T.D.s will take a year to think it over and let everyone know then.
Last updated Mon Mar 30 2020. If you have any comments, please email the webmaster on web-master AT britgo DOT org.