British Go Congress Launches Restart of Face-to-Face Tournaments
Tue, 05/10/2021 - 09:44

—

Tony Atkins
British Open
Leicester
Fri, 1 - Sun, 3 Oct 2021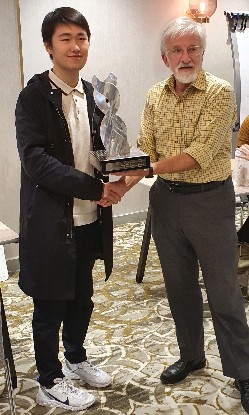 This year's British Go Congress, comprising the British Open and the British Lightning Championship, was held at the Novotel Leicester between the 1st and 3rd of October. This was the first face to face tournament the BGA has organised since Covid, and, despite being delayed and short notice, just over 30 players enjoyed a weekend of games.
The lightning tournament was won by Gong Cheng (3d London City), with Niall Tuohy (6k), who made the trip from Dublin, coming in second. Hopefully their achievements were not marred by the typo on the trophies which says they have won the "British Lighting Championship".
The main tournament was closely fought, having a strong contingent of dan players which included four 5 dans. Eventually Yaoling Yang (5d Bristol) pulled away from the pack and won with the excellent result of six straight victories. He is shown left receiving the trophy from organiser and BGA President Toby Manning. On four wins were Daniel Hu (5d London) and Leo Kai Mei (5d Durham). Notable results were achieved by two of our Junior players: Scott Cobbold (2k Wanstead) won his first 5 games, but was unable to play the last round, and Caleb Monk (9k London) got 5 wins out of 6. Results
This event was also the qualifier for the British Championship and it seems likely, after all qualifying conditions are checked, that the match will be between Daniel Hu and Bruno Poltronieri.
Sincere thanks go to Peter Fisher from Leicester, who as well as playing in five rounds also handled the draw, and even polished the trophies. The immediate feedback from the players was that they had enjoyed a friendly event in comfortable surroundings and were glad to be back to face to face matches. Planning will start soon for the 2022 congress which we expect to be at the normal time of year around Easter. We look forward to seeing many of you there.
Last updated Tue Oct 05 2021. If you have any comments, please email the webmaster on web-master AT britgo DOT org.