Youth Go News - July 2020

YOUTH GO NEWS
Welcome to the eleventh youth newsletter.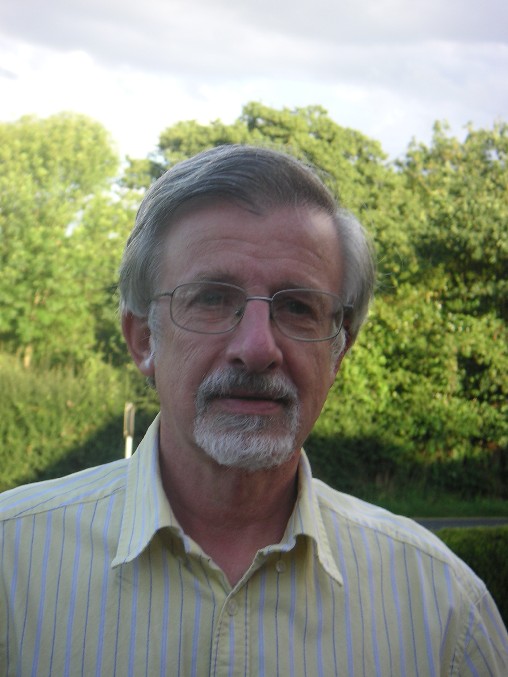 Editor, Toby Manning.
You are receiving this Newsletter as we believe you have an interest in Youth Go. If you do not wish to receive future Newsletters, or if you receive multiple copies, please let us know at ynews at britgo.org
If you have any suggestions for inclusion in future newsletters, please email them to: ynews at britgo.org
NEWS
The meetings on OGS for youth players and parents are continuing every Sunday from 4pm to 6pm. There are junior players from 25-kyu up to 2-kyu with about half a dozen parents joining in as well. New members are very welcome, please contact Paul Smith (paul361smith at gmail.com) for details of how to join.
Match with Holland
On 1 June some of our youth players from this group joined in the Dutch youth group on OGS organised by Dave de Vos. We won 6 out of 8 games played against the Dutch junior players (and Alexander Hsieh won a handicap game against Dave), but this wasn't a competition. The point was just mostly to play with some different players and have fun. If there are any other groups on OGS (for example any UK club groups) who we could have a joint meeting with please let Paul know.
Match with China
On 7 June we started a "Supergo" match on KGS between twelve British youth players and a team of twelve youth players organised by Go teacher Li Ang in China. This will carry on for several weeks with one or two games each weekend. The British team is Lea Wong, Caleb Monk, Yanyi Xiong, Alexander Timperi, Alexander Hsieh, Jonah Burnstone-Cresswell, Scott Cobbold, Edmund Smith, Gene Wong, Tom Bradbury, Daniel Chun Yang and Jayden Ng. Congatulations to Lea who won her first three games! She lost to China's Zhang Zhexuan (who won two). Then Yanyi became our star player winning five in a row before losing to Wu Haochao, who went on to win three. He lost to Jonah. Up to 25th July 14 games have been played and the score is 9-5 to the UK team. You can keep up to date with the match on this page and you can watch the games in the British Room on KGS.
England - Scotland Match
On 15 June eight English players and eight Scottish players met up in the Scotland Youth Team Room (organised by Greg Kudla) on OGS. They played two rounds and we think the score was 9-7 but we are not sure who won! It was great for both sides to meet some different players. The Scottish youth players have improved quickly and some are very strong for their age.
GoSquad Training Tournament
On Sunday 5 July, 30 young Go players gathered online for our first online training tournament for the UK Youth Go Squad. All players 20 kyu or better were invited (that we were aware of) and it was pleasing to see how many of the players had improved over recent months. (if you believe you should have received an invitation but did not, please email ynews AT britgo.org and let us know.
The tournament was played over three rounds during the afternoon on OGS.
Eight of our 30 players were graded 3kyu or stronger (with three of this group in the U12 age group), thus demonstrating that the strength of our youth players is steadily increasing.
Jacob Zhang is our strongest player and won all three games to lead the top group, although a rapidly improved Ryan Zhang, now playing at 2 kyu, gave him a good game. Other notable results were the three wins from Edmund Smith (3 kyu), Caleb Monk (11k), David Baldwin (14k) and one of the Scottish youth team (14k).
There was a wide geographical mix with players from Scotland, London, Manchester, the Midlands, Cambridgeshire, Hertfordshire, Oxfordshire and Surrey.
We intend to hold more of these events which will help us choose the final line up for the British online youth team next autumn.
Thanks to Paul Smith who did all the hard work in advance of the day to make it such a success.
Join the BGA
Did you know that you can join the British Go Association as an individual "youth" member for only £15/year (or £10 online-only "student" membership) - see here for details.
ACADEMY
Thee are currently 53 youngsters at the EGF Academy, 5 of them from the UK. Please note that we are providing a 50% discount on the Academy fees; please apply to youth-chair AT britgo.org if you have not yet received your discount.
FUTURE EVENTS
Caythorpe 2020
It is with regret that we have cancelled the "Go Camp" due to be held at Caythorpe in August 2020. Although Caythorpe are hoping to be open, they are not yet certain and it is not clear that we can undertake the Go tuition while remaining within Govenment guidelines on social distancing, and we felt that the best option was to cancel.
We will be holding a "Go Camp" at Caythorpe in August 2021.
The 2021 European Youth Go Championship will be held during the first half of March in Czechia.
ADMIN
The BGA has updated its Data Protection Policy to correct an omission: we hold your email address (but no other information) in an online database which is part of the britgo domain. This database is password protected, is not linked to the main site (hence not accessible by search engines) and only available to BGA Officials on a "need-to-know" basis. This database is used only to dispatch this Newsletter, and possibly other urgent messages of interest to young players.
LIFE AND DEATH PROBLEMS
Black to play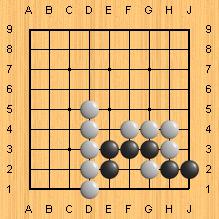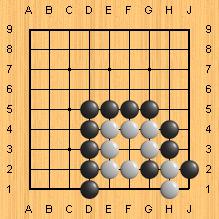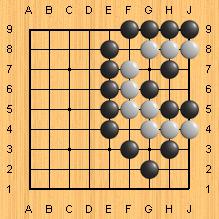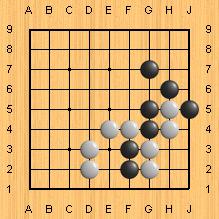 Last updated Sat Jul 25 2020. If you have any comments, please email the webmaster on web-master AT britgo DOT org.