Youth Go News 19 - November 2021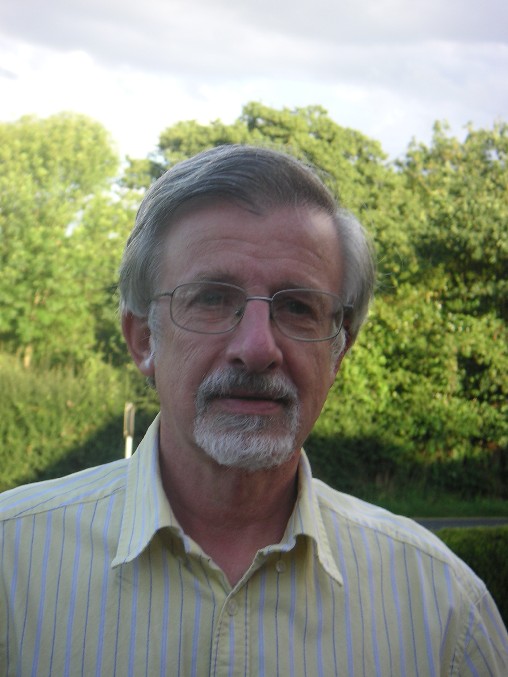 Editor, Toby Manning.
You are receiving this Newsletter as we believe you have an interest in Youth Go. If you do not wish to receive future Newsletters, or if you receive multiple copies, please let us know at ynews at britgo.org
If you have any suggestions for inclusion in future newsletters, please email them to: ynews at britgo.org
NEWS
British Open Result
Congratulations to Scott Cobbold, who achieved 5/5 at the British Open, held in Leicester over the weekend of 1 - 3 October, and to Caleb Monk (5/6). Other young players who did well were Spike Shamoon and Andrew Volovich, both with 3/6.
European Team Squad Selection Tournament
On 10 October we held a 3-round on-line Tournament on OGS; we had 40 entrants. This was a "selection tournament" for the European Youth Go Team Championship (see article below) aimed at identifying potential players for the squad. Some players who entered the tournament were not eligible for the squad, and some potential squad members were unable to play, but it enabled everyone to get a chance to influence the selection.
The winner with 3 wins was Alain Cheung, 5d from London (Alain is not eligible for the squad). Others with 3 wins were Caleb Monk (9k, London), Michael Cheung (10k, Bolton), Andrew Volovich (10k, Cambridge), Darius Rahmati (13k, Aston), August Cai (14k, London) and Lawrence Baker (18k, Oxford).
European Youth Go Tournament
This event is normally held face-to-face in the Spring, but the 2021 event was postponed, and was eventually held online over the weekend Friday 15 - Sunday 17 October. As two games were played on the Friday, this limited the UK representation to six players.

In the Under-12 section Andrew Volovich (10k) and Lukasz Kudla (11k) both got 4/6; in the Under-16 section Scott Cobbold (2k) and Hanna Kudla (10k) both achieved 2/5, and Jan Kudla (11k) 3/6. In the Under-20 section David Baldwin (10k) won 2/5.
Euro City Youth League
Following on from the prototype European Youth Team League the first competition involving more countries is being held in autumn 2021. There was only one knockout league as there were seven UK teams (from London, Cambidge and Derby) and also a few teams from Germany and Kyrgyzstan.
Again games are being played on OGS with teams of three. Games are 13x13 and the players play twice - once on even and once with Handicaps. The first round on 9 October saw Cambridge the 3Rs, Cambridge 2 and 3 and London Red Giant losing, but Cambridge 1 and Derby Thunder Cats winning and London 1 getting a bye.
On 23 October (subject to confirmation) London 1 and Cambridge 1 won, but Derby lost to Wuppertal. Semi finals are on 6 November and finals on 13. Results
Squad for European Teams Announced
The European Youth Go Team Championship 2021/22 is played online on KGS between about a dozen European countries. Each match is played over 5 boards (1 Under-20, 2 Under-16 and 2 Under-12) and the team is selected from a squad of 15. Our Team Manager is Alison Bexfield. She has selected the following squad, based on known performance, and influenced by the results of the Selection Tournament held on 10 October:
Under-20:
Jacob Zhang 3d (captain)
Yuji Claire Chen 3d
Edmund Smith 2k

Under-16

Isabella Zheyu Qiu 2k
Scott Cobbold 1k
Sam Barnett 2k
Daniel Chun Yang 1k
Gene Wong 2k
Lea Wong 4k
Spike Shamoon 5k
Under-12

George Han 3k
Derek Duan 8k
Jin Cheng 9k
Andrew Volovich 10k
Lukasz Kudla 11k

Our first match is on 13 November against France. Last year we came second in the League (after Russia) and we hope the team this year can emulate that performance.
Anglo-Chinese Youth League
Starting in mid-March, an all-play-all league was played containing 7 young UK players and 7 players from the Chinese team we played against in the China Match 2020, "Li Ang Yi Tao", organised by Go teacher Li Ang.
Unfortunately time and exam pressure meant that a number of matches - especially those not involving chinese players - were not played, and byes were awarded.
Here are the full results. Congratulations to Sam Barnett who came joint top with Li Yuze from China.
FUTURE EVENTS (ONLINE/OVER-THE-BOARD)
See also details of all British Go Tournaments.
The Adult-Youth Match on Sunday 7 November has been postponed to 2022 as it clashes with the weekend of the T Mark Hall Rapid and the Bar-Low, both of which are at the London Go Centre and are of interest to young players.
British Youth Go Tournament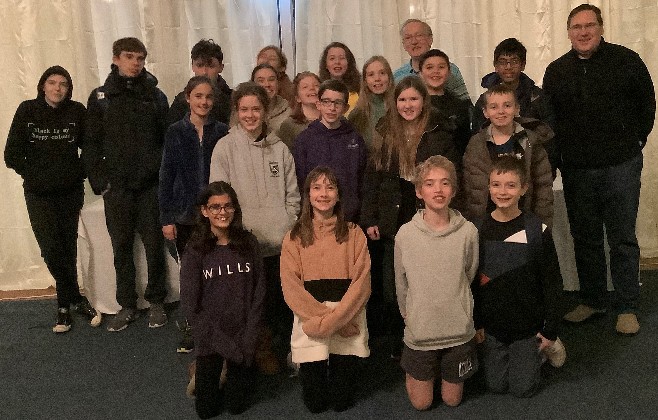 This will take place at Leicester County Bridge Club, 67 St Oswald Road, Leicester LE3 6RJ, on Saturday 20 November. Youth titles at U8, U10, U12, U14, U16 and U18 will be contested, on 19x19 boards, in addition to the titles of overall British Youth Champion and British Schools Team Champions. Modified McMahon system will be used. Beginners and those new to the game will be made particularly welcome, and can select to play most of their games on 13x13 boards. Non-British residents also welcome, but some may not be eligible for titles. Here are more details, including an entry form.
The 2019 group from Cheadle Hulme School is shown above.
European Youth Go Tournament
This will be held in Prague, 10 -12 March 2022. It will be preceded by a "training camp (March 6-9).
DIARY SUMMARY
November
Postponed - Online Youth-Adults Match
Sat 6 - Euro City Youth League (semi-finals)
Sat 6 - T Mark Hall Rapid (London Go Centre)
Sun 7 - Bar-Low (London Go Centre)
Sat 13 - Euro City Youth League (final)
Sat 13 - European Youth Teams
Sun 14 - OGS Youth Club 16:00
Sat 20 - British Youth Go Championships
Sat 27 - Coventry
December
Sat 11 - European Youth Teams
Tue 28 - Fri 31 London Open
2022
March
Mon 6 - Thu 9, Go "Training Camp", Prague.
Fri 10 - Sun 12 European Youth Go Congress, Prague.
What's App Group
We run a "WhatsApp" group used for last-minute information about tournaments and other events. We are not pubishing the link on the website to preserve security: if you wish to join the group please email us (youth-chair AT britgo DOT org).
TEACHING/TRAINING
For Stronger Players (stronger than 10 kyu)
The EGF Academy is a project that provides an online training site for Europe's most talented young players. It teams up powerful professionals from China and veteran teachers from Europe to offer European Youth a varied and solid Go education that, until now, was only available in the Far East.
The system runs in cycles, each lasting 4 weeks, and the cost is €25 per cycle, but the BGA offers a 50% discount. To obtain your discount please email youth-chair AT britgo.org. The minimum strength is 10 kyu. If you want to participate, please email Gabriel Wagner (gabriel DOT wagner DOT trier AT gmail DOT com).
For Weaker Players (weaker than 10 kyu)
We are setting up a regular teaching session for those players below 10 kyu, but this remains under development. We will let you know as soon as it is ready.
USEFUL RESOURCES
Here are some useful resources/links:
BGA Youth Go Twitter account (kept fairly active, 126 followers)
BGA Youth Go OGS (closed group, 163 members including adult organisers)
BGA Youth Go Discord Channel
BGA Website: Youth Pages
2021 BGA Youth Grand Prix: Current position (84 players)
PROBLEMS
Black to play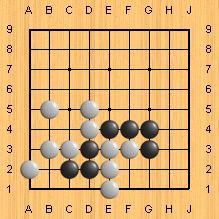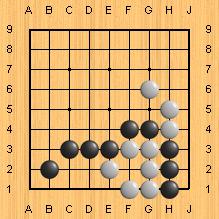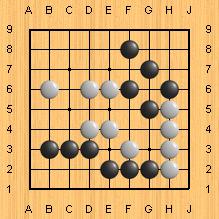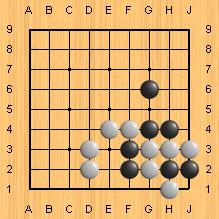 Last updated Fri Nov 05 2021. If you have any comments, please email the webmaster on web-master AT britgo DOT org.