This was the first year of what are planned to be annual awards.
They were mostly presented at our AGM at the British Go Congress.
The categories (and winners) were:
Player of the Year (winner Martin Harvey)
Club of the Year (winner Letchworth)
Loss of the Year (winner Alistair Wall)
President's Award for services to the British Go Association (awards went to Pat Ridley, retiring Journal Editor, and Tony Atkins, website editor, tournament coordinator, UK Go Challenge and Youth Championships organiser (pictured below right receiving the Award from Ian Marsh at the Bracknell Tournament)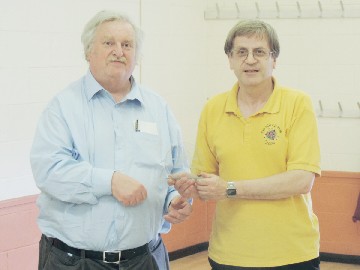 The nominations were:
Player of the Year
Alex Kent for being a rising newcomer
Jonathan Green of the Leamington club. He has risen in rank quite significantly in recent years. He has been putting in quite a lot of effort to improve his Go, and though he hasn't reached shodan the nominator felt that his effort could be recognised
Martin Harvey For his work in the past year in creating a junior Go outpost in the North of England.
Club of the Year
Letchworth: for children's activities
Brighton: From a low point of having only sporadic small meetings a couple of years ago, the club has been brought back from the brink. It now has regular well-attended weekly sessions with many young and new players.
Cambridge Junior chess and Go This club is now in its 20th year thanks to sterling work from Paul Smith and Andrea Smith and has seen a steady stream of juniors which has helped to maintain junior Go activities for many years.
Loss of the Year
Alistair Wall for passing when there was one dame point left and losing by half a point at the MSO against Francis Roads.
Brent Cutts against Robin Dews at the East Midlands tournament. He made a catastrophic error in a quick reaction move, which lost the game.
Martin Harvey for resigning in a winning position against Roger Huyshe at the 2014 BGC. In a tightly fought game Martin, well ahead on secure territory, ran with an ultimately one-eyed 40 stone group, through Roger's central moyo and eventually resigned. Days later it emerged that part of the surrounding group might be killed by a large-scale ko leaving an even more exciting part of an already exciting game unplayed!
Last updated Wed Oct 18 2017. If you have any comments, please email the webmaster on web-master AT britgo DOT org.